Brigham Young, the Educator
Hugh Nibley
Professor at Brigham Young University
June 9, 1967 •
The text for this speech is not available, but please enjoy the audio through the link provided.
See the complete list of abbreviations HERE
Related Talks and Topics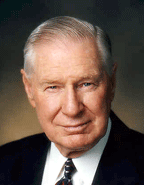 446 Views
James E. Faust
|
Aug. 21, 2001
I am pleased to be here and help all of you memorialize a great leader whose birth 200 years ago we celebrate. Much has been written and said about Brigham Young and his great leadership and accomplishments. There is little that has not been thoroughly pored over, analyzed, and commented upon. To present some history about this great leader that is not so well known, I asked Ron Esplin for his able assistance, and I am indebted to him for much of the material I am using. One evening in early 1859, after the peaceful conclusion of the Utah War—a keen test of leadership for Brigham Young—the ordeal was being discussed and the men in Brigham Young's office were talking about the game of chess. President Young remarked that he "knew nothing of such games." But then he added, "I have had to play with the kingdoms of the world, with . . . living characters." When some observed that he had played "a great game," he replied, "Yes, and I am not displeased with nor regret any move that I have made" (17 February 1859, Brigham Young Office Journal, LDS Church Archives). I have chosen to focus on what appears to me to be the source of his absolute self-confidence and the complete certainty he had in his own judgment. I know of no other explanation for his boldness and audacity in thinking of moving a whole people—more than 60,000—by wagon and handcart across much of the North American wilderness to the Great Basin. As President Hinckley said: No plow had even broken its soil. He knew nothing of its fertility, nothing of the seasons, the weather, the frost, the severity of the winters, the possibility of insect plagues. Jim Bridger and Miles Goodyear had nothing good to say concerning this place. Sam Brannan pleaded with him to go on to California. He listened to none of them. He led his people to this hot and what must have appeared as a very forlorn place. When he arrived, he looked across this broad expanse to the salt lake in the west and said, "This is the right place." [Gordon B. Hinckley, Brigham Young 200th birthday anniversary gala, 1 June 2001, unpublished] Brigham Young was present, along with Wilford Woodruff and others, when the Prophet Joseph Smith said: "Brethren, I have been very much edified and instructed in your testimonies here tonight, but I want to say to you before the Lord, that you know no more concerning the destinies of this Church and kingdom than a babe upon its mother's lap. You don't comprehend it." . . . He said, "It is only a little handful of priesthood you see here tonight, but this Church will fill North and South America—it will fill the world." . . . "It will fill the Rocky Mountains. There will be tens of thousands of Latter-day Saints who will be gathered in the Rocky Mountains. . . . This people will go into the Rocky Mountains; they will there build temples to the Most High." [Joseph Smith, quoted b
554 Views
Larry C. Porter
|
Jan. 27, 1998
The year 2000 is fast approaching, and more than passing interest is being expressed in many quarters as a global populace makes the transition from one millennium into the next. On the BYU campus, my friend Dr. Gordon E. Stokes and his colleagues in the Department of Computer Science are viewing the wreck created by CBOL (Common Business Oriented Language) programmers in the 1960s and 1970s, when they ignored good design and set up a date field with just two digits, 00. In doing so they sowed the seeds of a business world nightmare in the year 2000 when many accounts, bookings, and benefits will experience disastrous results if the necessary corrections are not made.1 It's panic time, and Software Magazine has just published its "Year 2000 Survival Guide."2 In Great Britain, Prime Minister Tony Blair has said that the Millennium Dome, now being constructed on the prime meridian at Greenwich, will be "the most exciting thing to happen anywhere in the world in the year 2000."3 A Washington, D.C., announcement has been made of a White House Millennium Project, "a yearlong celebration of American history, science, and culture," replete with "millennium evenings at the White House" featuring noted speakers. Washington has also contacted a number of world leaders to discuss mutually beneficial millennium celebrations. One spokesperson observed, "This is a chance to reflect on our collective past and where we're going together."4 In the waning moments to the year 2000, I am sure that individually and unitedly as a Latter-day Saint community we will take occasion to reflect on our own collective past and to contemplate the future. Saints everywhere can look back with thankful hearts that we were part of this particular millennial era in which the gospel of Jesus Christ was restored in its fullness, an era when strong men and women received the word gladly and carefully laid the foundation for our own belief. This is a very unique block of time by eternal standards. Among the key figures profoundly influencing the restoration process in the departing millennium has been President Brigham Young—truly a man for the ages. The First Presidency and Quorum of the Twelve Apostles have announced that in the years 1998 and 1999 an important element of the course of study for the Melchizedek Priesthood quorums and the Relief Society classes of the Church will be drawn from the book entitled Teachings of Presidents of the Church: Brigham Young. It is intended that every person in the Church eighteen years and over will receive a personal copy of this volume through a ward or branch. I am informed that approximately 4,000,000 copies have been published to meet current and anticipated needs in the years ahead and that there are some twenty-three language translations. The work is designed to be part of your permanent home librar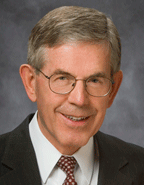 525 Views
Bruce C. Hafen
|
Aug. 28, 1995
I welcome the BYU community this morning as we begin another school year. I especially welcome those who are new among us. In many searches and circumstances, we have prayed you here, just as you have prayed about coming here. We who gather today in the Marriott Center are the largest part, but not the entirety, of the BYU community, whose members and influence now stretch into a far-flung empire that serves and blesses much of the earth. One evening a few months ago I spoke by phone to Noel Reynolds, who was participating in a conference of scholars on the Dead Sea Scrolls at the BYU Jerusalem Center. One of my children interrupted to tell me that Phillip Smith of the BYU—Hawaii faculty was calling on the other line. As I put Noel on hold long enough to tell Phil I would call him back, I realized that the easternmost and westernmost outposts of Brigham Young University had just come together "live," right there in my Orem telephone lines. I verified with my two callers that the sun was just going down in Hawaii as it was just coming up in Israel. And then it hit me: the sun never sets on the Cougar Kingdom! With that note on the breadth of life at BYU, may I describe a recent morning when I sensed some heights of life at BYU. On the morning of June 21, I welcomed the Institute of Applied Statistics to our campus. Those number crunchers were ecstatic to be meeting at the nation's largest private, church-related university on the longest day of the year, the warmest June 21st in 23 years, following the wettest Utah May in 17 years. They quivered with delight to discover that the Talmage Building has 130,893 square feet and that the BYU campus has 638 acres, 482 buildings, and 399 miles of sidewalks. They loved learning that the BYU Statistics Department has done a special study on skiing accidents to help those who come to Utah for the 2002 Winter Olympics. According to these statistically valid data, most skiers who break their legs on Utah slopes do so on the last run of the day. As I left the statisticians to go to my office that morning, I saw Hugh Nibley walking toward me near the ASB parking lot. Suddenly he stopped walking, turned around, and began looking intently northward. The inimitable Nibley removed his sunglasses, tipped back his canvas hat, and stood transfixed, as though his eyes drank in a vision. Then I saw what had stopped him—and an aesthetic and spiritual view of BYU replaced the statistical one. A clearing storm and rising sun had left a ring of heavy, low clouds around the neck of Mt. Timpanogos, like a richly flowered lei. The familiar Timp skyline poked above the clouds, glistening in the sunlight with a light layer of fresh snow, the white peaks contrasting brilliantly with the blue sky and the full green foreground. I stopped, too, looking not just at Timp but at Hugh Nibley looking at Timp. No matter how many hundreds of times he had seen that mountain, no matter how full his head from
270 Views
L. Tom Perry
|
Aug. 6, 1989
And it shall come to pass in the last days, that the mountain of the Lord's house shall be established in the top of the mountains, and shall be exalted above the hills; and all nations shall flow unto it. And many people shall go and say, Come ye, and let us go up to the mountain of the Lord, to the house of the God of Jacob; and he will teach us of his ways, and we will walk in his paths: for out of Zion shall go forth the law, and the word of the Lord from Jerusalem. [Isaiah 2:2–3] Each year as we celebrate the twenty-fourth of July, I reflect on this scripture and marvel at the accomplishments of the Mormon pioneers who settled here in the tops of the mountains. I have a special respect and admiration for President Brigham Young as he led the colonization of the pioneers here in the West. As we meet tonight on the campus that bears his name, it seems appropriate to remind ourselves of some of the teachings, philosophy, and vision of this great leader. Brigham Young first saw the light of day in a rough-hewn log cabin in Whitingham, Vermont, on 1 June 1801. His arrival swelled to nine the number of John and Abigail Howe Young's children, divided unevenly with five girls and four boys. Shortly before Brigham Young was born, the family moved in the middle of winter from Hopkinton, Massachusetts, to Vermont. So Brigham Young really had his beginning in Massachusetts, but was born in Vermont, not many miles from the birthplace of the Prophet Joseph Smith. In those days the people were surprisingly mobile. When they found farming not very productive in one place, they would migrate to another, almost on impulse. This had prompted the Young family to move from Massachusetts to Vermont to see if they could open up a greater farming potential. Survival under these conditions depended entirely on one's industry and on the weather. The farmer is usually more susceptible to the ideas of God than are those in most other occupations—mostly because farmers are so dependent on God, and especially as they witness the recurring miracle of life and growth in the planting, nurturing, and maturing of crops. So John Young had a religious upbringing,, as did his wife. By the time he left Whitingham in 1804, he was impelled to move west to find more fertile land and more congenial surroundings. The next stop for the Young family was Sherbourne, New York, a rural village in the Cherry Valley. The Youngs stayed here for nine years, and in this place the family was increased by the birth of the tenth and eleventh children. However, it was diminished by the death of their second child, a fourteen-year-old daughter. From Sherbourne they migrated to Cayuga County, New York, in 1813. This was the last home that the wife of John Young would occupy. Careworn after bearing eleven children in twenty-one years and mothering them under harsh conditions, she finally gave up her life for her family.
Contact
BYU Speeches
218 University Press Building
Provo, Utah 84602
GIVE to Speeches
AFFILIATED SPEECHES
RELATED LINKS
CONNECT WITH US
Follow BYU Speeches
Subscribe