The text for this speech is not available, but please enjoy the audio through the link provided.
See the complete list of abbreviations HERE
Related Talks & Topics
0 Views
Paul Caldarella
|
July 25, 2017
Good morning, brothers and sisters. I first want to thank the Brigham Young University administration for giving me the opportunity to speak with you today. It is always a pleasure to meet with the Saints. I also commend you for attending and watching these devotionals. When I first began my employment at BYU, a colleague of mine told me that if I attended devotionals, my work at the university would be blessed. I have certainly found that to be true. It is an honor to speak to you today, and I pray that the Holy Spirit will attend to help edify and uplift all of us. Since beginning employment at BYU, one of my greatest fears has been giving a devotional talk. However, when I prayed about the invitation to speak to you, I not only received confirmation to give this talk, but I also received the topic to cover. I thought I would start by telling you a little bit more about myself. I am originally from Rhode Island. I joined the Church as a graduate student in Logan, Utah, and I was fortunate enough to meet my wife, Andrea, while in graduate school. We have two boys: AJ, age twelve, and Andrew, age seven. My family is the love of my life, and I am extremely grateful that the Lord has blessed me with them. I also want to wish you all a happy Pioneer Day. I had not heard of this holiday before ­moving to Utah, but it is a day for which I am grateful. It is so important to remember our ancestors and the sacrifices they made for us. I am from a family of immigrants, so I can relate to the story of the pioneers, who traveled great distances and bore up under hardships seeking a better life. My grandfather Emilio Caldarella immigrated to the United States on the Gerty, a steamship from Pachino, Sicily, on June 28, 1906, at the age of eleven with his fourteen-year-old sister, Maria, and his forty-nine-year-old mother, Concetta. They had just twenty dollars between the three of them when they arrived. The voyage by steamship across the Atlantic took nearly three weeks. They first settled in Lawrence, Massachusetts, and eventually moved to Providence, Rhode Island. As I was preparing this talk, I began to wonder what had led people like my grandfather and the early pioneers to leave their homes and loved ones and travel long distances at great personal expense and sacrifice. As I pondered this question, I began to realize that they had heeded the call of the Lord. How else could they have made those long treks and withstood the hardships that often accompanied those experiences? When we are called of the Lord, we can withstand such challenges. I am a pioneer of sorts in that I am the first and only member of my family so far to join The Church of Jesus Christ of Latter-day Saints. In my devotional talk today, I am going to use scriptures, hymns, art, quotes from Church leaders, and some of my own personal experiences.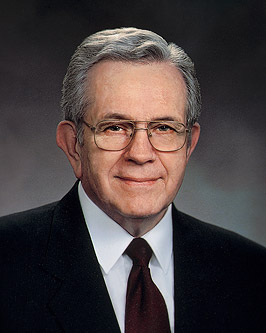 296 Views
Boyd K. Packer
|
Mar. 27, 1973
We're very happy this morning, Sister Packer and I, to be here at Brigham Young University, where we have only three children now attending, down from four. That's a deficiency, I think, that as the years unfold we can correct, Brother Lewis; there'll be others coming along, and we're happy to have them here. I'm conscious that this is a devotional assembly, and I would ask for an interest in your faith and prayers this morning as I discuss with you a very sacred subject, one that fills me with gratitude each time I contemplate it. I'd like to share with you some thoughts and some experiences relating to a question that was asked by Moroni, the ancient prophet, when he said, Has the day of miracles ceased? Or have angels ceased to appear unto the children of men? Or has he withheld the power of the Holy Ghost from them? Or will he, so long as time shall last, or the earth shall stand, or there shall be one man upon the face thereof to be saved? [Moro. 7:35–36] This ancient prophet answered his own question with these words: Behold, I say unto you, Nay; for it is by faith that miracles are wrought; and it is by faith that angels appear and minister unto men; wherefore, if these things have ceased, wo be unto the children of men, for it is because of unbelief, and all is vain. For no man can be saved, according to the words of Christ, save they shall have faith in his name; wherefore, if these things have ceased, then faith has ceased also; and awful is the state of man, for they are as though there had been no redemption made. [Moro. 7:37–38] The Lord, during his ministry, promised that these signs shall follow them that believe: In my name shall they cast out devils; they shall speak with new tongues; They shall take up serpents; and if they drink any deadly thing it shall not hurt them; they shall lay hands on the sick, and they shall recover. [Mark 16:17–18] Now, such miracles have always been a witness of his Church on the earth, and they're known among us—I could say even common among us—but they're not often talked about. We regard them with humility and with unmeasured reverence. It isn't about those miracles that I would speak to you this morning. It's about another miracle, a very quiet one, one that's constantly with us, and always apparent, and yet ofttimes ignored. In a recent testimony meeting, a friend of mine told of a conversation he'd had that week with a fellow employee in a business establishment. My friend had regarded him as an active member, a faithful member of the Church always, and yet in this conversation he made the comment that he didn't believe that there was much inspiration in the way people were called to office in the Church. He said they're called from desperation or something else, but he said there couldn't be much inspiration in it. I don't know w