"A Wonderful Flood of Light"
Neal A. Maxwell
of the Quorum of the Twelve Apostles
Mar. 26, 1989 • Devotional
FULL VIDEO
The text for this speech is not available, but please enjoy the video through the link provided.
See the complete list of abbreviations HERE
Related Talks and Topics
5,833 Views
Jennifer Rockwood
|
Mar. 15, 2016
What an amazing opportunity it is to stand before you today. Never in a million years would I have ever thought that I would be right here, right now. I must admit that the first thing I thought when asked if I would be willing to speak was, "Really? Are you sure? I'm just a soccer coach!" And then I thought, "Oh, no—those new Marriott Center screens are way too big!" It goes to show you that we never know what God has in store for us in the present or in the future. Life is a journey, and we must always embrace it—even when we are asked to do something that we thought was absolutely unimaginable. My journey truly has been different than what I would have ever foreseen when I once sat in your seat over thirty years ago. But what a blessed life and what a ride it has been. I pray that I will be able to share a few thoughts and stories today that might inspire you to realize your significance and importance here on earth. I know that I will not necessarily tell you anything you haven't heard before, but I hope that I might remind you of what you have always known and of what can so easily be forgotten in our demanding lives. Follow the Light Does your life seem too busy at times? I know mine does. We live in a world in which our lives are busier, noisier, and more stressful than ever—a time when nothing stops or even slows down. We have more responsibilities, more pressures, more expectations, and more places to be, and we spend far too much time on our smartphones. It just seems impossible sometimes to keep up with the pace. In order to slow down the madness of life, I love to retreat into nature. We are so blessed to live at the base of majestic mountains. We can look to the west and appreciate the view of the lake, travel east and be enveloped in the canyons, or drive south and take in the magnificence and serenity of the red rock. I am always drawn to the light in the beauty of God's creations, in which I can find ­calmness, comfort, peace, and a deeper connection to my Heavenly Father and my Savior. Just as the sun, the moon, and the stars light the landscape of this beautiful world, the light from above provides us with direction and purpose. When I think about light and the many different meanings it has, I reflect on an experience I had last June. For several years I have had the opportunity to participate in a team race that takes runners through some of the most beautiful scenery in the state. The event starts in Logan and winds through the Wasatch Back to finish in Park City. It is called the Ragnar Relay Series, and each team consists of two vans, with six people packed into each van. Each team spends more than thirty hours together with no sleep, not much food, and few rest spots. Each team member runs three different routes, and the whole team runs a total of more than 180 miles. What an adventure! Last year I wasn't quite as prepared as usual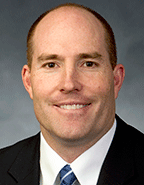 1,938 Views
Chad Lewis
|
Mar. 25, 2014
Shortly after accepting my job at BYU, I called Elder Jeffrey R. Holland's office to ask if he would do the voice-over for an athletics commercial during the height of Jimmermania. Because of my football career I had gotten to know Elder Holland, and I thought he would be the perfect person, with his distinctive voice, for the job. Then I had a meeting with Tom Holmoe, BYU's athletic director, and I let him know how excited I was about the possibility of including Elder Holland in our project. I naïvely assumed that Tom would be thrilled about my phone call and invitation. I was wrong. It was a major faux pas. He let me know that any invitation to one of the leaders of the Church needed to go through the president of the school. I quickly wrote an apology to President Samuelson, and this was his inspiring reply: Chad, No need to worry. We sometimes forget to inform those coming into BYU employment of the unique way things are done at BYU, particularly when it relates to contacts and requests of the senior Brethren. You are like those guaranteed a place in the celestial kingdom because no one ever taught them the gospel. We probably should not take this one up the line, but feel free to raise any good ideas you have. Sorry we didn't loop you in earlier. I know Elder Holland's only concern would be disappointing you. Know that you are loved and appreciated. All the best. Cec I love that letter. It is a shining example of my topic today: "The World Needs to See and Feel Your Light." What does President Samuelson's letter, with his good-natured correction for me, have to do with this theme? Everything! How do you think it made me feel as a new BYU employee to receive that letter? It inspired me. He didn't crush me with his authority; it was just the opposite. I could feel his light and the love he had for me. As I share my thoughts with you today, I hope to better prepare you for tomorrow. Many of you will run your own companies. You may hold positions of leadership. You would be wise to follow President Samuelson's great example of how to correct and inspire others. President Samuelson has tried to respond to every email from every student. Think of the encouragement and faith that he has shared with you and other students over the last eleven years. He has certainly followed the counsel of the Savior to let his light shine. He and Sister Samuelson are awesome, and I will miss my association with them. President Kevin Worthen and his wife, Peggy, will likewise win your hearts and earn your respect as they serve you. I know President Worthen and have complete confidence in him. Our Savior Jesus Christ said, "Therefore let your light so shine before this people, that they may see your good works and glorify your Father who is in heaven" (3 Nephi 12:16). That is my favorite scripture. Let your light shine. When President Thomas S.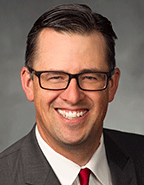 3,616 Views
Tyler J. Jarvis
|
July 9, 2013
An important problem that arises in many settings is the Traveling Salesman Problem. A traveler must visit many destinations to sell her goods or make her deliveries. Her problem is this: what route will be the fastest way to get to all the destinations? A poor choice could mean she travels many times farther than she would if she made a good choice. Obviously this problem is important to companies like UPS, the U.S. Postal Service, Walmart, and Amazon. For example, according to Wired magazine, UPS has roughly 55,000 delivery trucks running each day. If each driver could choose a route that shaves just one mile off the daily trip, that would save the company $30 million each year.1 And this problem is not only interesting to companies involved in delivery. The Traveling Salesman Problem also has applications in computer chip manufacturing, DNA sequencing, and many other areas. Consider the situation for three destinations—call them A, B, and C. One of the possible routes our traveler could take to these three destinations would be to first go to city C, then to city B, then to city A, and then home again. Altogether there are six possible routes in this situation, so to solve the Traveling Salesman Problem with three destinations, I need only compare the six routes and see which is shortest. With four destinations I must check a bit more: twenty-four possible routes. I can do that. With five destinations we have 120 routes. I am too lazy to check all those, but it is not hard to write some computer code to do it for me. You may have noticed that the number of routes to check is growing rapidly. For ten destinations we have 3,628,800 possible routes to check—a lot, but not impossible. For twenty destinations it grows to 2,432,902,008,176,640,000. This is a little too big for my laptop to check in any reasonable amount of time. In fact, if my computer could check a billion routes per second, it would still take seventy-seven years to check all the possible routes. At current energy prices, just the electricity for the computation would cost roughly $675,000. Now let me reassure you. It may look like I am going all mathy on you, but don't worry—I won't make you compute anything, you don't need to remember any of these numbers, and there won't be a quiz at the end. So stay with me for just a bit longer. The point is, even for just twenty destinations we have way too many possible routes to check in any reasonable amount of time. The bad news is that in many real-life situations we have a lot more destinations than just twenty—for example, a UPS driver makes an average of 120 deliveries each day. For 120 deliveries there are so many possible routes we couldn't store them all in the memory of any computer in existence, not even if our computer's memory comprised all the atoms in the universe—or even all the atoms in a googol2 u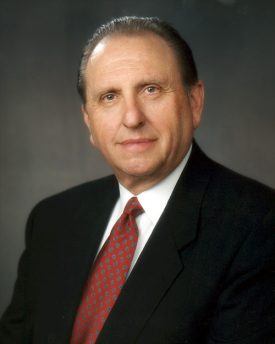 1,982 Views
Thomas S. Monson
|
Nov. 1, 2011
What a glorious sight you are! It's an honor, my young friends, to be here with you. I feel the tremendous weight of the responsibility which is mine to provide you with a message which will hopefully be helpful to you not only for today but, indeed, throughout your lives. As I gaze at this vast audience, I'm reminded that each of you is one of a kind. Each has had experiences unique to you and you alone. You have come to Brigham Young University from locations across the country and the world. You come from varied backgrounds. And yet there is much that we have in common one with another. We know where we came from, why we are here, and where we will go when we leave this life. We know that we are children of our Heavenly Father and that He loves us. We know we want to return to Him after we leave this earthly existence. We know that what we do—and don't do—here in mortality is of utmost importance. We also know that, should we fall short, our Savior has provided us with the precious gift of the Atonement and that, if we change our lives and our hearts and take advantage of the power of the Atonement, our sins and shortcomings will be forgiven and forgotten. We have in common the gospel of Jesus Christ. And we know it is our responsibility to share the truths of the gospel with others. One of the chief ways in which we can share the gospel is to be a righteous example, and it is about this that I wish to speak to you today. The Apostle Paul admonished, "Be thou an example of the believers, in word, in conversation, in charity, in spirit, in faith, in purity."1 He also wrote that the followers of Christ should be "as lights in the world."2 This is what I would hope for each of us—that we might be a light to the world. What is light? Webster's dictionary lists no less than fifteen definitions for the noun light. I prefer the simple "something that illuminates." Just as turning on a light switch in a dark room will bathe the room in light, so providing an example of righteousness—and therefore being a light—can help to illuminate an increasingly dark world. Each of us came to earth having been given the Light of Christ. Said President Harold B. Lee: Every soul who walks the earth, wherever he lives, in whatever nation he may have been born, no matter whether he be in riches or in poverty, had at birth an endowment of that first light which is called the Light of Christ, the Spirit of Truth, or the Spirit of God—that universal light of intelligence with which every soul is blessed. Moroni spoke of [that light,] that Spirit when he said: "For behold, the Spirit of Christ is given to every man, that he may know good from evil; wherefore, I show unto you the way to judge; for every thing which inviteth to do good, and to persuade to believe in Christ, is sent forth by the power and gift of Christ; wherefore ye may know
Contact
BYU Speeches
218 University Press Building
Provo, Utah 84602
GIVE to Speeches
AFFILIATED SPEECHES
RELATED LINKS
CONNECT WITH US
Follow BYU Speeches
Subscribe