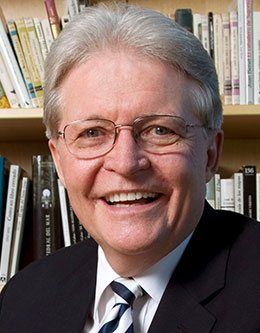 Internationally, BYU is known as "the language university." The 2017 edition of the pamphlet Y Facts reported that approximately 65 percent of BYU students speak more than one language. Let me do a quick survey to see if those assembled here today are representative of BYU students in general. If you know more than one language, please raise your hand. [The majority of the audience raised their hand.] I hope you realize how extraordinary it is that you have been given the gift of being able to communicate in more than one language. Think about it: language is the most complex of a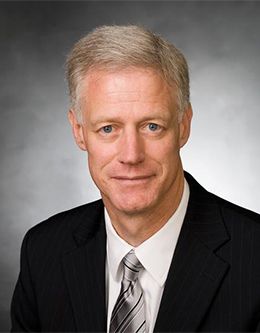 You may wonder, as we gather to recognize and celebrate the end of your university career, why we hold a ceremony that we call a commencement. A commencement is, after all, a beginning, not an end. Some may conclude that this apparent misnomer occurs because university administrators, who organize and name such events, are often so confused that they are never sure whether they are coming or going or beginning or ending. That may be true. However, there are other explanations for this seeming contradiction. We celebrate the final act of your university education with a commencement c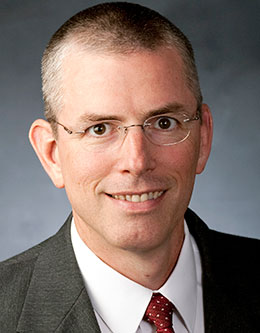 I was born in Mountain View, California, the second of (eventually) eleven children. We settled in a relatively quiet neighborhood on the east side of San Jose, not far from the rolling foothills that are crowned by the imposing Mount Hamilton, home to the Lick Observatory, "the first permanently occupied mountaintop observatory in the world."1 The weather was usually pleasant, even during the warm, sunny days of summer. As spring yielded to summer, the foothills would turn from a verdant green to a cozy, warm brown. But even on hot days, a cool breeze would flow off the bay every a
Hi, everybody! To all of you—graduates, parents, and other supporters—thank you so much for being here, and thank you even more for what you have done to get here. I also want to say thank you to those who have helped me get here. To my sweet husband, my parents, my siblings, and all my extended ­family, thank you for your wonderful encouragement and support. I will start by letting you all know that I do not feel particularly qualified to address you, much less able to give you any life advice. After all, most of us are pretty much in the same stage of life. So what I want to do today is j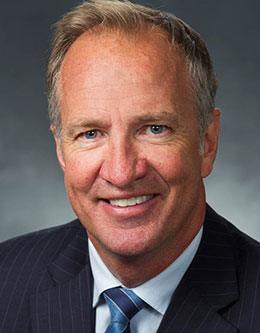 Several weeks ago I came home from work and announced at the dinner table to my wife and two of my daughters that I would be speaking at the BYU devotional on September 29. My wife, Lynn, immediately said, "Honey, what an amazing opportunity, and it will still be early enough in the semester that people will actually be there!" Lynn, I am happy to say that you were right—there actually are a lot of people here—and it is my prayer that over the next half hour I can share a few thoughts that will encourage you to have perfect attendance for the rest of the year. Find and Become a Wort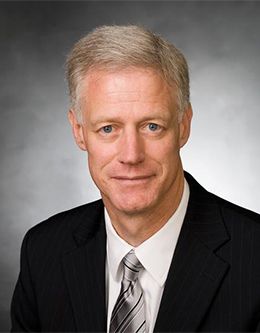 It is wonderful to see you all here this ­morning and to feel the joy, warmth, and enthusiasm you radiate. I count it as one of the great blessings of my life that I have the opportunity to associate daily with such ­talented, consecrated people whose main focus is to provide our students with the kind of holistic learning experience that President Spencer W. Kimball called "education for eternity."1 I am grateful beyond words to each of you for your efforts in that rema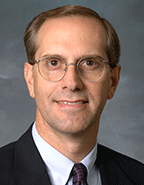 I wish to begin my remarks today with an expression of gratitude to the academic administrators on campus. This year the deans of three of our academic colleges completed their service in the office, and their replacements were appointed following a thorough search process. Associate deans have been invited to serve with these new deans in the college leadership. In addition, twelve department chairs completed their terms this year and, following careful consideration and upon recommendation of their deans, new chairs were appointed this summer. This constitutes a significant fraction of the a
I feel honored and humbled to have received the assignment from the First Presidency to speak to you precious young people today. I hope that you have an appreciation of how much the prophet and the First Presidency care about you and love you. You are among "the noble and great."1 [A man arrived] home from work to find a very small girl sitting on the curb in front of his house, crying. He asked if he could help. Through her sobs she explained that she was lost. He told her that this was his house and his wife was inside. He told her he knew she shouldn't go with strangers, b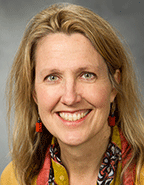 I have to tell you how much I love working and living in a college town, where I get to know so many wonderful students. When our youngest, Rob, was about five, we were out shopping, and I bumped into a bunch of students, as frequently happens. It was great because he looked up at me kind of wide-eyed and said, "Mom, every place we go people know you. Are you famous?" Of course I said, "Yes." I may not be famous, but I am blessed to work with so many fantastic colleagues and friends and to have so many great students; they inspire me in many ways. Many of my students are here today. My C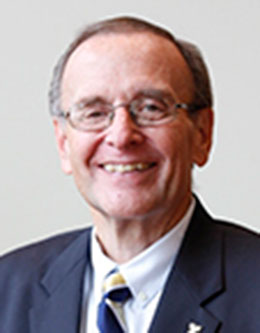 As I look over this sea of blue, I see thousands who have taken the challenge that is sculpted near the entrance to BYU: "Enter to Learn; Go Forth to Serve." Congratulations. You are now a graduate of one of the greatest universities in the world. One of my privileges as alumni president is to officially welcome you into the BYU Alumni Association. I hereby confer upon each of you lifetime membership in the Brigham Young University Alumni Association. We welcome you to this great association of more than 400,000 alumni. As you go forth to serve, I invite you to stay connected to BYU thro
President Uchtdorf, President Samuelson, trustees, honored guests, distinguished faculty and staff, parents and family members, friends, and graduates: Dear brothers and sisters, it is an honor to be with you on this significant occasion. I offer my congratulations and deep respect for what you have achieved with the degrees now bestowed upon you. I acknowledge the years of commitment, sacrifice, and hard work that have occasioned your presence here today. I honor not only you graduates but also all the family members, friends, deans, professors, and university staff who have sustained you in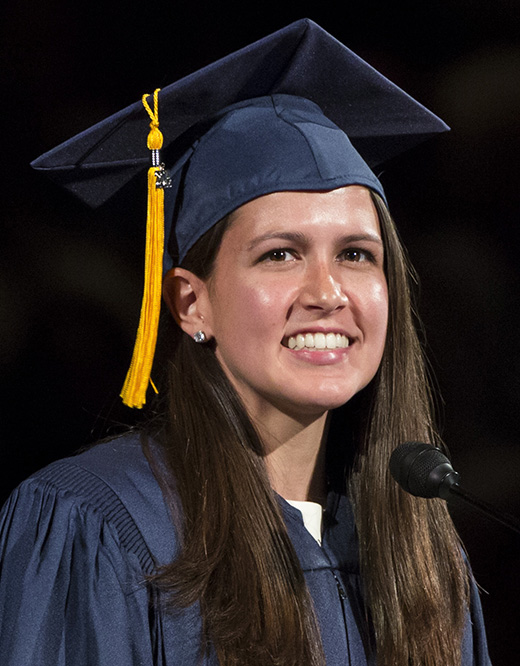 President Uchtdorf, Elder Cardon, President Samuelson, faculty, family, and friends, it is an honor to stand before you today on this special occasion and to express to you the gratitude of each of us as graduates for all of your love and support over the past several years. And to you, my fellow graduates, you are truly an inspiring sight today. I am grateful for this opportunity to share with you a few words. When I first set foot on the BYU campus as a student, I had a plan. I was here to soak up every scrap of knowledge I could find that related to biochemistry, perform amazing research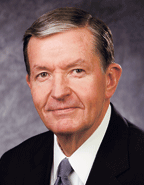 I am always grateful to have this opportunity to reflect with you graduates, faculty, family, and friends on what it is that we are really celebrating in this commencement today. I'm guessing that if we were to survey this large crowd in the Marriott Center, we would be exposed to several responses. Most would be legitimate and understandable, some might be more personal and even unusual, and some might just reflect the wonderment that this phase of life is finally over. In a Deseret News editorial on June 2 of this year, it was reported that comedian commentator Stephen Colbert, who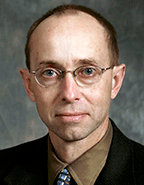 I would like to thank BYU for giving me the opportunity to speak to you today. I have had the amazing privilege of teaching at this wonderful university for almost twenty years. I love BYU and what it has meant for my family, my students, and me. Indeed, I would like to thank my family, my colleagues, and my students—but especially my family. I love you all very much. You have made this experience one of joy and happiness for me. Today I would like to talk about wandering and wondering. The topic of this devotional has been percolating in my mind for a while. Steven Knott, who is bishop of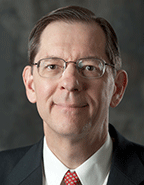 I am happy to be here with you today. I remember when I was a university student. Like some of you, I had trouble deciding what my major should be. First I thought about majoring in economics. That way, if I couldn't get a job after I graduated, at least I would understand why. Then I thought I might major in physical education. I went down to the gym to lift weights, but the laughter made it difficult to concentrate. I sampled some classes, but I didn't always do very well. For example, I took a photography class. I just about went crazy trying to take a close-up of the horizon. The tea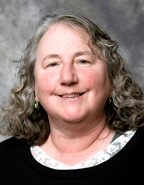 Over the past month our ward has welcomed several newborn babies. Each baby comes to this earth curious and 
eager to learn. They want to taste everything, chew everything, and pull on everything. I imagine that from a baby's point of view, everything in this world is new and amazing. As we anticipated our exodus from 
the spirit world, we placed great trust in the plan of salvation. We trusted Heavenly Father and our Savior. In Their wisdom, They knew that our spirits would initially flourish best in the physical form of a baby. When 
our spirits were united with our physical bodies, we be
As a scientist, I make observations that help me develop explanations for what I see in the laboratory. These explanations are called hypotheses, and they can be tested in the laboratory to determine whether or not they are true. An example of a hypothesis that I might make is "because chemicals A and B are known to be reactive, I reason, or 'hypothesize,' that if A and B are mixed together, they will react and form product C." One of the first challenges that we as scientists face in testing our hypotheses is to determine the "definitive test," or the analysis that allows us to unequivocal
Sister Jensen and I are pleased to be here, along with members of our family. I acknowledge my total dependence upon the Lord, and I have prayed and do pray now that during this devotional we will allow the Holy Ghost to be the true teacher that He is—about which I will say more in my message. The theme of this Campus Education Week and the title to my remarks is "That All May Be Edified," coming from Doctrine and Covenants 88:122: Appoint among yourselves a teacher, and let not all be spokesmen at once; but let one speak at a time and let all listen unto his sayings, that when all ha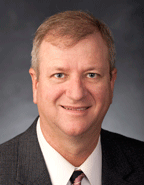 I grew up on a small farm in Sanpete County, Utah, about seventy miles south of Provo. As I have reviewed my life, I have recognized the Lord's guidance and perhaps even intervention that has directed me onto paths I would never have thought to pursue myself. From a very young age I knew what I wanted to be when I grew up. My grandfather owned the local sawmill and logged his own trees. As a little boy, I often went with him to the mountain. We would be logging trees, and quite often a green truck would pull up on the ridgeline and just sit there for a while. Being curious, I asked Grandpa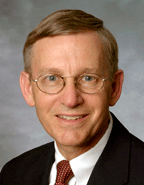 I am truly 
grateful for this recognition. And thanks to all of you for your presence here today, especially to 
my family to whom I owe so much. I'm glad my brother Jim could play the organ today. He and I were 
roommates in Helaman Halls in 1968. With great talents, he is a brother I have always looked up to. 
Also, it is fun to be able to address you here in the de Jong Concert Hall. I remember ushering here 
as a freshman in 1964. My wife, Jeannie, and I have many good memories of dates and events here in 
this building. I'm so glad that she and I have been able to share such an abundant l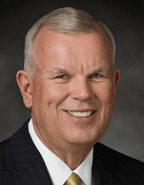 Brothers and sisters, it is wonderful to be with you this morning. You are a beautiful sight. Each time I come on campus, I can't help but think of many years ago when I came for a stake conference here with one of the BYU student stakes. We spent the evening with the stake president and his family and had a wonderful dinner. During the evening we visited, and the stake president asked Sister Snow, Phyllis, about serving with me. She said, "Oh, it's very enjoyable." She said she loved coming. The only thing that bothered her, she said, was that "I am often introduced as his lovely wife." He ma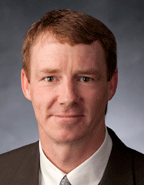 If there is one thing that distinguishes the university from other institutions of learning, it is the expectation to advance knowledge. The mission of most educational institutions is to pass on what is already known. Our high school teachers distilled their lessons from books that had already been written. At the university we engage in this dissemination too, but we have the further obligation to add to the bank of human knowledge by asking new questions or using new sources and methods to find better answers to old questions. Increasingly, through programs such as mentored learning, rather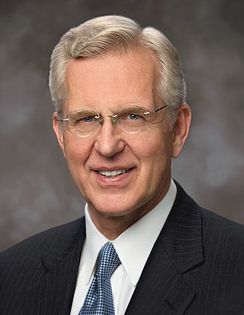 President Samuelson; trustees, faculty, and staff of Brigham Young University; honored guests; parents; family members; and graduates: My dear brothers and sisters, Sister Christofferson and I offer our congratulations, respect, and love to all of you. We thank you for the privilege of being with you on this grand occasion and rejoice with you in the achievements that we honor today. We are pleased to have been authorized to convey to you the greetings of President Thomas S. Monson, his counselors in the First Presidency, and the members of the Quorum of the Twelve Apostles. We extend those gr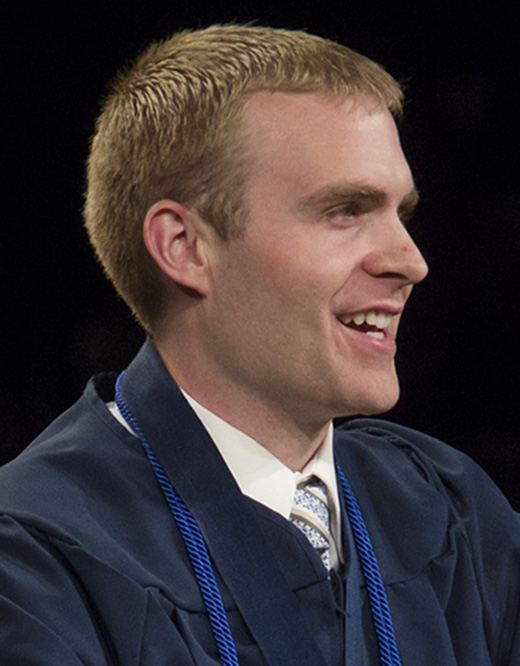 Picture in your minds an image of the sun with its rays peeking over the mountains and the sky lit up like a fire. Few visions can surpass the beauty of this scene. In your mind's eye, is this sun setting or rising? Few moments in life are anticipated as much as graduation from college and the celebration of the hard work that was required. Few experiences can surpass the poignancy of this moment. Again, is your sun setting or rising? The difference between the two is important, since one gives way to darkness while the other leads to more light. In the Doctrine and Covenants it is writt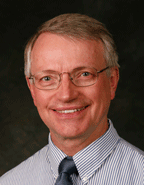 It is a privilege to be here today, but I have to tell you that it is pretty intimidating to be the poor fellow who has to follow Apollo 13 astronaut Jim Lovell. I actually want to follow up on something that was evident as I listened to him speak: it is possible to be both professionally excellent and to be a person of faith. I am going to tell you today that striving for this kind of balance in your life is the best way to live. When Karl G. Maeser was called by Brigham Young to come down here and rescue the struggling Brigham Young Academy, President Young gave him a famous charge: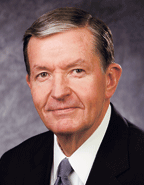 It is my distinct privilege and pleasure to welcome all of you and to extend my commendations and congratulations to those before us who are recognized in our program of the day and are adorned in the apparel earned by their accomplishments. As we will emphasize later, none has trod this path of achievement alone, and so in our adulation we include all who have contributed in any way to the success of these graduates. On behalf of our administration and board of trustees, thanks to all who have assisted, supported, and blessed the lives of this group of students we honor today. Each graduat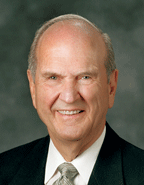 Thank you, President Samuelson. Thank you for your excellent service and exemplary leadership. We admire you and Sister Samuelson greatly. We also express our gratitude to the faculty and staff for their help to these choice students at Brigham Young University. Wendy and I are grateful to be here with you today. We are very pleased that President Dieter F. Uchtdorf has been awarded an honorary doctorate. We congratulate him. When we think of all he has accomplished—from his childhood days as a refugee in Europe's cold, cruel cauldron of war to his position now in the First Presidency of th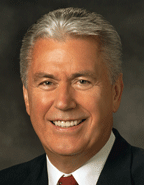 President Samuelson, honored guests, parents, family members, graduates, my dear brothers and sisters—Sister Uchtdorf and I extend our congratulations, commendation, and deep love to all of you whom we honor on this happy day. Even nature seems to be honoring you with the beauties of springtime as we mark the culmination of many years of hard work and study. It is a great privilege for us to be with you today. And we are pleased to be with Elder and Sister Nelson, who are wonderful friends and true servants of the Lord. I love this university. During my years as an airline captain, I wou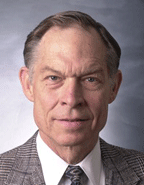 Across the eastern face of the new Joseph F. Smith Building, which was dedicated three years ago, runs a 200-foot curved glass curtain. This curtain encloses a grand gallery on the second and third floors. In this gallery, a permanent multimedia exhibit opened its doors this fall. The exhibit is entitled Education in Zion, and its theme is how our Zion tradition of learning and faith has always been focused on the education of the whole soul. For dozens of us who worked on the exhibit—all but a few were BYU students and recent graduates—this project has been like a secret passageway to a re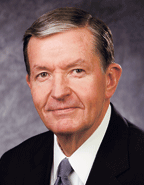 It is my great pleasure to welcome you formally to another exciting fall semester. I hope and anticipate that this academic year will be a wonderfully productive and happy experience for all of us. Today I would like to talk with you—in a way possible only at a place like Brigham Young University—about learning. Because of our doctrine, we can understand much about how we may learn, what things we can learn, and why we must always continue to learn. The Prophet Joseph Smith declared to the world: We believe all that God has revealed, all that He does now reveal, and we believe that He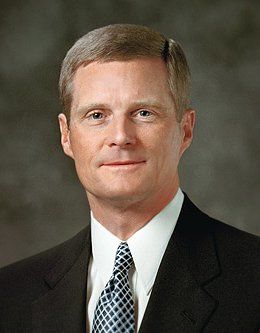 My beloved brothers and sisters, I rejoice with you on this special day. Sister Bednar and I have loved watching you happy graduates and grateful family members celebrate a truly important accomplishment. Cameras are clicking, recorders are running, text messages are flying, and smiles are beaming all over this campus. Tonight and tomorrow convocations will convene, festive meals will be enjoyed, and plans for the future will be discussed. This is a day both for remembering and for making memories. I recall with fondness the day I graduated from Brigham Young University with my undergraduat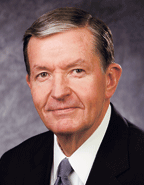 Graduates, families, members of the faculty, brothers, sisters, and friends, it is a pleasure to be together with you on this special day of celebration. Of course we not only celebrate the signal achievements and accomplishments of this distinguished class, but we also gratefully acknowledge the contributions of so many of you who have assisted, encouraged, and supported these impressive graduates during their stretching years of study. Today we will grant a total of 2,513 degrees. Most are at the baccalaureate level, but 375 are master's degrees and 36 are doctorates. As you will note in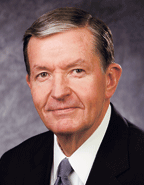 Graduates, families, brothers, sisters, and friends, it is a wonderful privilege to be with you and witness the various expressions of excitement, elation, and anticipation for the future. I see in you relief that it is finally over and also mutual and reciprocal feelings of appreciation for each other and for special experiences that have been part of your BYU journey. We are certainly pleased to honor specifically all those graduates whose names are found in the program today, and we also pay tribute to and thank the many who have made these accomplishments possible. In this we include sp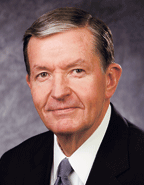 Once again it is an exciting and anticipatory pleasure for Sister Samuelson and me to welcome each of you to a new school year. I am confident we will have a special and enlightening series of devotional and forum assemblies this semester that will complement, supplement, and, we hope, enrich what will also be a very productive period in your classrooms, laboratories, and libraries. We look forward to being with you each Tuesday at this same time and hope that you will regularly attend and bring your friends and associates with you. As I have said before, a large part of what constitutes the u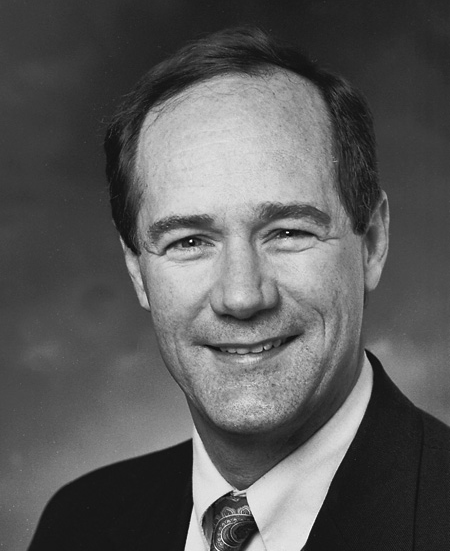 As I prepared for this talk, wondering what I might say or do that would make any lasting difference, I recalled the example of another Miltonist turned administrator. When the Renaissance scholar Bart Giamatti became president of Yale, he wondered: What was it that Yale needed most, wanted most, and would most contribute to solving our deficit, enhancing our quality, and making me a Manager? One night . . . , crouched in my garage, as I was trying to memorize the Trustees' names . . . , it came to me, and I wrote, right there, between the lawnmower and the snow tires, a memo.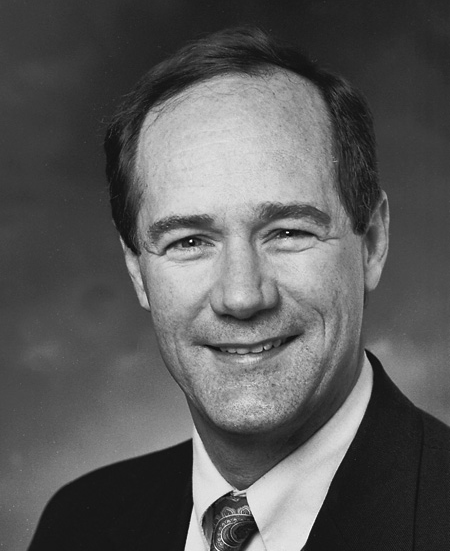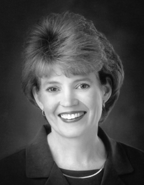 It is my privilege to be able to say a few words to you. I would like to begin by offering my personal congratulations to the graduates and to the families and friends here today. It is a day of joy and a day when we praise the Lord for the many mercies He has given us. My husband, John, just had a birthday. As we gathered to give him our gifts, our celebration looked a little different from that of most families. There was very little wrapping paper and ribbon and hardly any tangible evidence of gifts. Instead we presented him with memorizations as our gifts. For as long as I can remember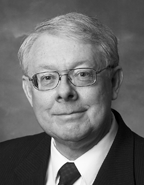 I appreciate this opportunity to address you in this devotional setting. Let me be among the first to welcome you to this summer term of 2004. I remember a summer term 29 years ago when I was interviewed and offered a job in Special Collections at the library. I remember the exhilaration of beginning my career. I also remember looking young enough to pass for a student here. Look at the full head of brown hair I had! Each time that I walked past the gauntlet of students passing out flyers, I ended up with a handful of notices. So it was with a good deal of sadness that one day I noticed that t
Nephi said, "My soul delighteth in plainness unto my people, that they may learn" (2 Nephi 25:4). He later explains that "after this manner doth the Lord God work among the children of men" (2 Nephi 31:3). The Lord truly does work according to plainness. Plain means pure, clear, uncomplicated, honest, simple, and without ornamentation (Webster's Ninth New Collegiate Dictionary, s.v. "plain"). Sometimes in the worldly scope of things plain has picked up a derogatory sense, meaning ordinary, not pretty, or old-fashioned, but it does not carry this sense in the eternal scope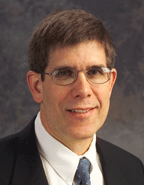 Learning a new language as an adult can be a very difficult and frustrating process. Languages have a huge, seemingly endless supply of new words, idiomatic expressions, and unpredictable grammatical constructions, and they come from unfamiliar systems of politeness and culture. Students, even very advanced ones, often feel overwhelmed by the sheer volume of material left to learn. To be perfectly honest, teaching a foreign language to adult learners is just about as frustrating as learning one is. We are a profession with an almost spectacular level of failure. Large numbers of bright-eyed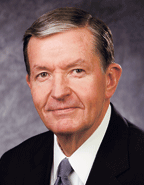 Brothers, sisters, and friends, it is my great privilege on this happy day to add my welcome to all of you and my congratulations to those we honor. We are grateful for the presence of Elder Richard G. Scott of the Quorum of the Twelve and chairman of the executive committee of the board of trustees, Elder Robert D. Hales of the Quorum of the Twelve, and other honored and special guests. For me, today is a commencement in the usual sense of the word. It is my first graduation exercise as president of this wonderful, special, and unique university. I am learning much that many of you already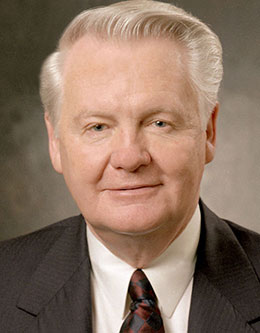 Sister Bateman and I are particularly pleased to welcome you to the new 2002–2003 school year at Brigham Young University. Normally the two of us share the podium during the devotionals. Because of a health challenge, Sister Bateman has asked that I represent the two of us today. We have been sweethearts for more than 40 years. Her experience during the last month has reinforced in my mind and heart how much she means to me and our family. Our prayers have become prayers of thankfulness. We are grateful that she is on the mend. We extend a special welcome this morning to more than 5,000 new
Elder Bateman: We welcome you to the first, official devotional of the 2001–2002 school year. We welcome a television audience that stretches across the United States and around the earth via satellite. One week ago Sister Bateman and I were prepared to address this same forum when tragedy struck New York City and the Pentagon. The events of that day have had an impact not only on the United States but on the entire world. Most governments now realize that no one is safe if terrorists are allowed free rein to develop secret networks and plan strikes against innocent people. It reminds o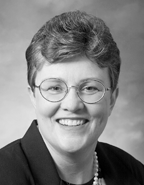 I am humbled by the invitation to speak today. As I have prepared my remarks, I have had particularly in mind the 900 new freshmen who arrived on campus less than two weeks ago. The rest of you will, I hope, find something of value in what I say, but I especially pray that I can help the youngest students among us understand some of the unique opportunities that lie before you. I have entitled my remarks "Lift Up Thine Eyes to the Mountains." This title was inspired by an experience I had two years ago. I like to vacation in the mountains, yet the summer of 1999 was the first time I had eve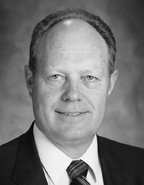 I am honored and humbled by the opportunity to speak to you today. I want to discuss some features of the most prominent activity on campus—at least it should be the most prominent—that of learning. Learning has been important to members of The Church of Jesus Christ of Latter-day Saints from the beginning of the Restoration. There have been instructions about learning that have become part of our scriptures. The scriptures even tell us what kinds of things we can expect to learn and ought to learn, and give some indications of why we should learn. I would like to place the activity of learnin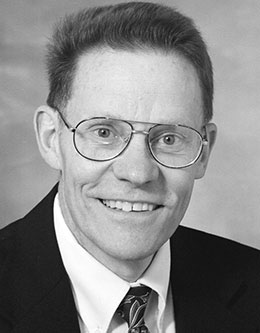 It is frightening to be asked to speak to you today. It is even more frightening when I hear those who have sacred callings in the Church—those much closer to the Spirit than I—acknowledge the great responsibility they feel when asked to speak at a BYU devotional. I don't know that I will say anything profound today, but I will tell you a few things I have learned from others and from my own experiences, especially experiences I have had at BYU. Forty years ago last month I became a freshman at this university. I came from a simple background in a small community with a small high school. M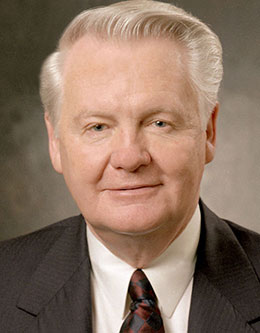 Before I begin the formal part of my talk, I wish to express appreciation to Sister Bateman for the wise counsel given today and for the extraordinary companion she has been to me through four decades. While I have tried to fulfill my dreams, many of which pertained to a temporal setting, she has focused solely on matters of eternal consequence. Her time and energy have been given to supporting a husband, raising children, befriending neighbors, visiting those with special needs, and creating a wonderful, peaceful home. She is a quiet, self-effacing woman—one who does not seek the limelight. H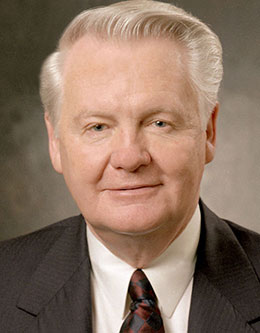 It is common at graduation time to receive a few student letters expressing thanks for the opportunity to study at Brigham Young University. Almost all students feel a sense of gratitude for the BYU experience. They appreciate faculty and staff members who have been a special influence in their lives--both in terms of the learning associated with a particular discipline and the wise counsel received concerning life. Sometimes students share a special experience associated with a classroom lecture or some other event. Recently, an August graduate sent such a letter describing an experience that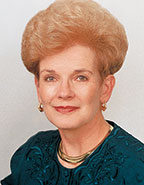 Brothers and sisters, friends: welcome to the Brigham Young University 1999 fall semester. It is good to be here today. It is awe inspiring to look out over this vast congregation. We are all in the right place at the right time. How very blessed we are to be at this great university to increase our knowledge of truth, both secular and spiritual. The quest for learning is a ceaseless quest for truth. Ultimately, any person who seeks after truth will be led to the gospel of Jesus Christ, for it contains all truth. Gospel principles bless all who seek to understand God's ways and His plan for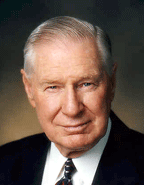 President Bateman, distinguished faculty, students—brothers and sisters all—coming to Brigham Young University is always a pleasure for many reasons. One is the special spirit on this campus. Another is the friendly, understanding atmosphere that obtains between students and faculty. A few years ago the Reader's Digest printed the following account from a student at this university: During my first semester at Brigham Young University, I forgot to take a science test. Panic-stricken, I approached the professor to explain my predicament. He looked at me sternly and asked, "Were you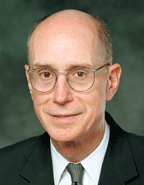 One of the reasons I love to come to this campus is to see you, the young people of the Church. Invariably it seems to me that you look even better than you did the last time I was with you. Because I came today expecting that experience, I was reminded of an account written a number of years ago by General James Gavin. He was a young general in the American army during World War II. He commanded the 82nd Airborne Division. He led them in the invasion of Sicily. There were casualties there. He parachuted with them behind enemy lines during the invasions in France. They lost more men there. The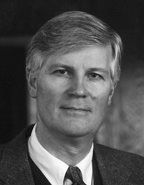 My dear fellow students seeking learning, even by study and also by faith: I salute you in this noble effort. I consider myself doubly blessed to be permitted to serve some of you as a faculty mentor, others as a campus bishop. My life and that of my family is unmeasurably richer because of our associations with BYU students, whom Linda and I (sort of as doting surrogate parents) consider to be the brightest, the sweetest, the most faithful, the most diligent, the most talented, and the most beautiful young people ever assembled in one place in the history of the world. (I admit to a slight bi
I was asked to address myself today to my experiences at the intersection of my studies and my beliefs. I have chosen to consider what I would call the development of the searching mind. Because I was asked to speak on some aspect of the integration of faith and reason, it occurred to me that I needed to take a moment and dedicate this talk to my husband. So much of what I think and what I am is due to my relationship, my discussions, and my life with him for the past seventeen years. Our discussions and his insights have helped me shape many of my own opinions about life and about how I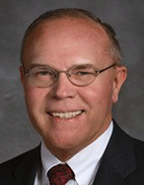 I love the words to the song our choir just performed: Write [thy] blessed name, O Lord,  upon my heart There to remain so indelibly engraved  that no prosperity or adversity shall ever move me from thy love. [D. Grotenhuis and Thomas à Kempis (Dayton, Ohio: The Sacred Music Press, 1991)] When Thomas à Kempis penned those lines more than 500 years ago, he was in one sense talking about education—the kind of education that can occur at this university in a way that can occur at no other because we believe that all truth is tied together and t
As you enter the BYU campus, prominently displayed is the challenge "Enter to Learn—Go Forth to Serve." This challenge not only applies to BYU students but could apply to others as well. It would also be appropriate and correct to say this challenge represents the purpose of our mortal experience. I would imagine all of us have moments when we sit, ponder, and meditate on who we are and how we are spending the time the Lord has allocated to us. Tonight I want each of you to think about where you are in the grand design that is unfolding before you. The desired objective of our evening of re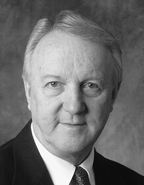 It is both a privilege and an honor to speak to you on this occasion and to represent the faculty of this wonderful institution. I am conscious of the hope and faith that has brought you here this morning and of the obligation that is now mine to offer something worthy of your trust. My only request is that you listen actively, rather than passively, and become part of a silent dialogue that will invite you to make an honest appraisal of the nature of your commitment to the process of learning and a quiet review of your desires, experiences, and objectives in spiritual things. It is my hope th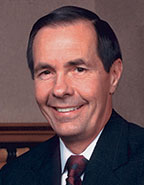 Janet has announced a principle that is both straightforward and important. Over this coming school year, everyone of you is going to experience some disappointments and some setbacks. Some of them will be rather profound and laden with sorrow, but we can learn and grow from these sorrow-laden experiences if we will resolve to do so. For my part, I propose to discuss two related propositions that I believe follow as corollaries to the basic premise that we can learn from our mistakes. But first, with regard to the basic principle, let me tell you of an experience in which I personally learn
My dear young friends in the gospel of Jesus Christ, I am grateful for the opportunity of being with you this evening in the company of my sweetheart of fifty years, whom I met and fell in love with at the BYU. My being invited to speak to you provides an opportunity for you to see that spending one's professional life in scientific research does not preclude the development of faith in our Lord and Savior Jesus Christ and a firm testimony of the truth of his gospel. It may be useful to you if I share some of the experiences I have had as a professor, as a participant in and director of gra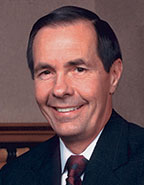 From the time I started the first grade, the early fall season has always held a special fascination for me because it marks the beginning of a new school term. And now it's here again, carrying the same set of pleasant reactions. With you, I look forward to this school year. For some of you this will be your first BYU experience, others are just returning from missions, and for many the next few months will be your last at BYU. But for all of us the year holds great promise, and, like you, I look forward to it. I want to talk to you today about three words that begin with the letter e: 
About three months ago, Rex and I attended a commencement exercise for our oldest son Tom, who was graduating from law school. On graduation day, as I strained to get a glimpse of Tom in the sea of caps and gowns, my eyes searched for his face, but my heart and mind were traveling through time to years gone by. My momentary vision was blurred by a flood of memories mixed with tears. Let me share just one of those memories with you. I remembered a little boy of three who was trying to write his name. I had written T-O-M out for him on a piece of paper and then left him to practice whi
When I open my eyes I see a world full of color with millions of shades of green and yellow and blue. It is hard for me to imagine the world any other way. And yet my eyes don't see everything. Despite the rainbow of colors ranging from red to purple around me, honeybees can see the ultraviolet light that I can't. At night I stumble unless I turn a light on, but cats and owls see things in the dark that I can't. When I get far away from an object, I can no longer see it, but hawks and vultures can spot their prey while flying two miles overhead. The world that seems so obvious to me is actu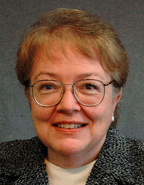 On Being Learners In the Book of Mormon we read: "And the church did meet together oft, to fast and to pray, and to speak one with another concerning the welfare of their souls" (Moroni 6:5). This also seems like an important time to meet together often to fast and to pray and to speak one with another concerning the welfare of our souls. Some of us may experience too many meetings—are we not meeting and talking together all the time? But there is in this scripture, and in others, a particular spirit of meeting one with another—a mutual caretaking, a spiritual reciprocit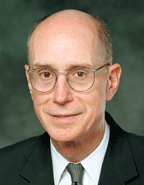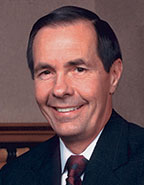 I am tempted to use this unique occasion to address my remarks, not to 15,000 people, but to one. I understand that your brilliant and handsome president, one of my dearest friends, has yet to become converted to the joys of jogging or the gospel according to Moody, Fisher, and Zimmerman. Even worse, of late his public pronouncements have been riddled with aerobic agnosticism. However, I have concluded that the problem of the Holland mitochondria being left under a bushel must be left for another occasion and perhaps another speaker. At this great university you have been involved in learni
I received a call from the BYU Music Department just a few days before Christmas requesting the subject of my talk this evening. They wanted to coordinate the music with the topic I had selected. Then in a very nice way, they explained that this was the holiday season and it would be necessary to prepare the music early. If it would be convenient, they wondered if I could fit their theme rather than allow me that privilege. This I agreed to do, and you will notice the music they render at the closing of this service will be, "I Need Thee Every Hour." This is our theme this evening. I want t
President Oaks, brothers and sisters, it's good to be home. I wasn't sure I qualified for continuing membership in this intellectual community after I read a definition the other day of an intellectual as "any individual who can hear the William Tell Overture and not think of the Lone Ranger." I don't pass that test, but I'm glad to be home. Mention was made by President Oaks in his generous introduction of my duties in connection with priesthood correlation. Correlation is a concept I'm often asked to define. I sometimes respond by citing a story that is told about the Church when a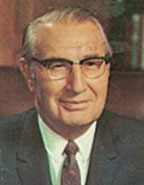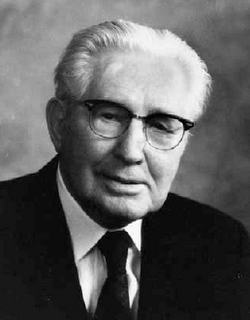 Contact
BYU Speeches
218 University Press Building
Provo, Utah 84602
GIVE to Speeches
AFFILIATED SPEECHES
RELATED LINKS
CONNECT WITH US
Follow BYU Speeches
Subscribe