Members of The Church of Jesus Christ of Latter-day Saints believe that agency, or the ability to choose for ourselves, is an essential part of Heavenly Father's plan of salvation. A war was fought in heaven when Satan advocated an opposing plan that stifled the agency of Heavenly Father's children. Because we are here on earth, we know that all of us fought for and chose God's plan.

One of our major purposes in this mortal life is to show that we are willing to follow God of our own free will. Therefore, Heavenly Father will never take away our ability to choose. He will give us commandments, but He will not force us to obey.

Every choice has a consequence. God ensures our agency, but by so doing He also allows us to face the consequences of our actions, good or bad. We are also often faced with the consequences of the actions of others. While it is difficult to deal with the consequences of our own agency and the agency of others, the alternative—a world without consequences—would effectively be a world without choices. Without agency, we would be unable to learn and grow. Our righteousness would be meaningless and our joy empty. In the Book of Mormon, Nephi teaches that without wickedness, we cannot know righteousness, and without sorrow, we cannot know happiness (2 Nephi 2:22-23). Thankfully, the Atonement of Jesus Christ makes the negative consequences of agency, which would otherwise be eternal, only temporary if we will accept His grace. He can forgive our sins and heal the bitterness and pain caused by the wrongs of others.

Agency is empowered by knowledge. The more we know, the more power we have to make choices—and the more accountable we become for those choices. Therefore, we strive to learn all we can to enable us to not just choose good over evil, but best over "good enough". We also strive to teach others so that they are empowered to choose.

These BYU devotionals explore the necessity and significance of human agency, its place within God's plan for each of us, and its implications in many earthly endeavors.
Show More
Show Less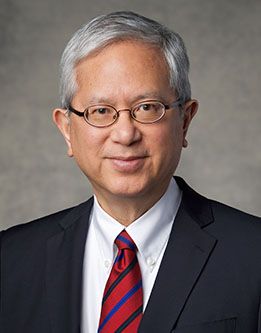 Dear brothers and sisters, my wife, Susan, and I are grateful to be with each of you today on this special campus. Don't you love fall and a new school year? Some here today are freshmen. Welcome. I learned many things as a freshman. For example, as a new freshman, I learned that, while it was not necessarily obvious to me, most people could immediately tell if I was wearing a collared shirt or a collared pajama top (even under a sweater) to class. Similarly, as a new freshman, I learned detergent and bleach are both used to wash clothes but with quite different effects.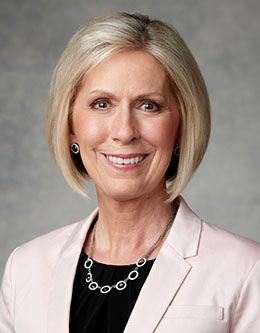 It is such a remarkable privilege to be here with you today. The years I spent on this campus afforded me a delightful assortment of memories, but never in a thousand years would I have imagined that I would be standing here addressing you today, my dear brothers and sisters. I honor and thank my Heavenly Father for this opportunity. I had the sweetest and most distinct impression last week that my great-great-great-grandfather and my great-great-great-grandmother had something to do with my speaking here today. His name is Brigham Young, and his first wife's name is Miriam Works You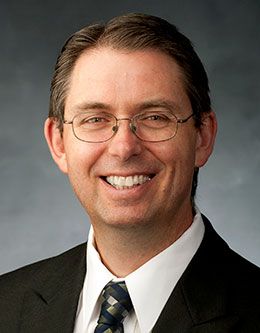 As President Worthen mentioned, I earned two degrees at BYU. I also met my wife, Maureen, in a family home evening group while we were both students here. Returning to BYU after twenty-one years in Ohio felt like coming home. We love being a part of this great university. In 2017 many stories were published regarding sexual harassment and assault. Celebrities, politicians, and corporate executives were among those accused of being perpetrators.1 The #MeToo campaign in social media2 and Time magazine's selection of "the silence breake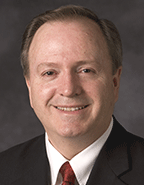 Brothers and sisters, I am grateful to be with you in this opening session of the 2017 BYU Campus Education Week. This year's theme comes from Doctrine and Covenants 50:24, with special emphasis on these words: "And he that receiveth light, and continueth in God, receiveth more light." I am going to take a different approach to this theme than might be expected by exposing and illustrating some very cunning and effective ways that the "wicked one" prevents people from progressing and receiving more light (D&C 93:39). Many gospel principles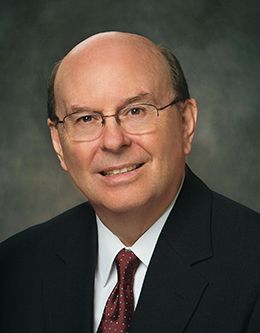 One of the most cunning aspects of the adversary's efforts to thwart our Father in Heaven's plan of happiness is his deceitful teaching that there is no evil influence or devil1 and his attempt to redefine evil as good and good as evil, darkness as light and light as darkness, and bitter as sweet and sweet as bitter!2 This is sometimes called a paradigm shift—or "when the usual way of thinking about or doing something is replaced by a new and different way,"3 thus portraying things to be exactly the opposite of what they really are. In his classic nov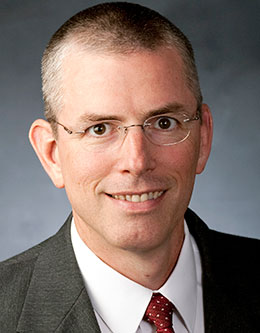 I was born in Mountain View, California, the second of (eventually) eleven children. We settled in a relatively quiet neighborhood on the east side of San Jose, not far from the rolling foothills that are crowned by the imposing Mount Hamilton, home to the Lick Observatory, "the first permanently occupied mountaintop observatory in the world."1 The weather was usually pleasant, even during the warm, sunny days of summer. As spring yielded to summer, the foothills would turn from a verdant green to a cozy, warm brown. But even on hot days, a cool breeze would flow off the bay ever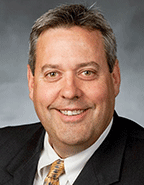 We are and will be faced with all types of choices throughout our lives. Each choice we make or action we take carries some type of consequence. The consequence can be positive or negative. A consequence does not always have to be negative; I think we are conditioned to think of consequences as negative. Sometimes consequences appear to be both negative and positive, depending on your point of view. Sometimes we make choices thinking we are doing good, only to have our good intentions and deeds backfire and make a bad situation worse. Sometimes we immediately regret a decision or cho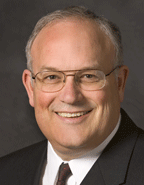 We deal with one key aspect of the remarkable plan of salvation many times each day (in reality, many times each hour): agency, or the ability to choose for ourselves. As I was preparing these remarks, I tried to think of a comparison to convey the importance of agency in the plan of salvation. First I thought of a piece in a jigsaw puzzle. Have you ever put together a jigsaw puzzle and found out there was one missing piece? It can be frustrating, and the picture isn't totally complete without every piece of the puzzle. But I realized that this is not analogous to agency in the plan because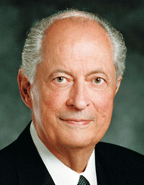 My beloved young friends and associates, it is a joy for me to be with you, and I want you to know what a blessing it is to be on this beautiful campus! There really is nothing like it in the whole world. I want to thank President Samuelson and all who make BYU possible. You are a light to the world, and you will become a brighter light as we go through this dispensation. Most of all, I am grateful for each of you, the students of this great university. Thank you for preparing yourselves to serve Heavenly Father's children. And thank you for standing as a witness of the Savior "at al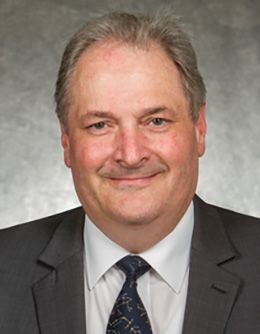 One of the key issues in the Council in Heaven—and one of the key differences between our Heavenly Father's plan for us and the plan advocated by Lucifer—was whether or not we would be given agency, or the ability to make our own choices. Lucifer argued that he could return us all to our Father without any need for agency on our part. Lucifer said: Behold, here am I, send me, I will be thy son, and I will redeem all mankind, that one soul shall not be lost, and surely I will do it; wherefore give me thine honor. But our Elder Brother said: Father, thy will be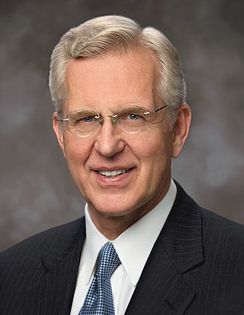 I offer you a warm greeting on this cold January day. Two years ago, in January, President Gordon B. Hinckley spoke to the leaders of the Church around the world, both men and women. Commenting on current conditions, he said: No one need tell you that we are living in a very difficult season in the history of the world. . . . . . . I do not know that things were worse in the times of Sodom and Gomorrah. At that season, Abraham bargained with the Lord to save these cities for the sake of the righteous. Notwithstanding his pleas, things were so bad that Jehovah decreed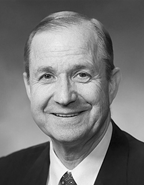 What is relevant to you today? A few weeks ago I attended a young single adult ward in Washington, D.C., where I met Dean Magleby for the first time. As we came here this morning, I was a little apprehensive about this assignment until I was able to see some of you whom I have known: some of our missionaries—well, many of our missionaries; those of you we have visited in your mission—and we consider you ours; as well as mission presidents and others we have had experiences with. After sacrament meeting in Washington, D.C., we stayed in the chapel and took the rest of the block time t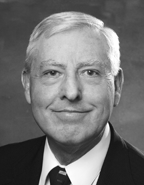 A well-worn and much-loved poem by Robert Frost introduces the subject. You may know the work, or perhaps you have heard only the oft-quoted last lines: Two roads diverged in a yellow wood, And sorry I could not travel both And be one traveler, long I stood And looked down one as far as I could To where it bent in the undergrowth; Then took the other, as just as fair, And having perhaps the better claim, Because it was grassy and wanted wear; Though as for that, the pass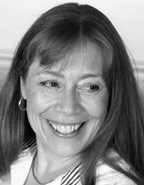 A friend of mine who was critical of religion once asked me, "What does it really mean if a person behaves righteously because of external rewards and punishments? Every animal will choose reward over punishment." Elder Maxwell gave a marvelous talk about agency from this podium three weeks ago. I want to reiterate one of the points he made: A central feature of agency is that God doesn't coerce us. Think about it. Could we trust a God who behaved the way He did because He was coerced into it? Satan's proposal to coerce souls into godly character reveals his lack of understanding. Ho
Thank you so much, President Samuelson. You're blessed to have this wonderful man as your president. But I miss him at Church headquarters—greatly and personally! It's always easy to praise Sharon because she represents, as does my wife—as do so many others—the faithful women of this dispensation, without whom this work simply could not be done. They are the kind of souls who are high yield and low maintenance. I appreciate the special rendering of Merrill Bradshaw's composition, having had the privilege of spending a little time with him just a couple of hours before he died. I appr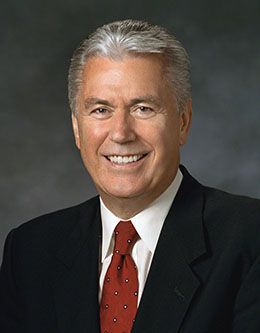 My dear brothers and sisters, what a delight it is to be with you today. To feel your spirit and the greatness of this school is uplifting and edifying. My wife and I connect in a very personal way to this institution of higher education. No, we never studied here, but our daughter received a master's degree here. As a proud parent, I am not only sharing with you that she graduated summa cum laude, but it is much more impressive and joyful for us as parents that she gave birth to our twin grandsons at the Utah Valley Hospital during the same year. Therefore, my wife and I love Provo.
It is a great pleasure to be with you today in this devotional. I am prayerful that the time we spend together will motivate each of us to consider our lives and to evaluate where we are as we begin this new year. Have you noticed how the seasons of our lives move forward in a never-ending stream? I have been fascinated—sometimes surprised, but almost always invigorated—by the changes I have experienced so far in the seasons of my life. Our personal choices are different as we pass through each new season. Do you remember how many of your choices as a small child focused on play, on
For someone who bleeds blue, it is wonderful to be back on this campus. I love BYU. But as much as I love this university, I love you more. For me, you embody the vitality of this magnificent Church. You are living, breathing evidence that righteousness will prevail in a cynical, seductive world. Every time I am in a gathering of men and women your age, I have the sense that I am surrounded by spectacular spiritual potential. I wonder how many future mission presidents, bishops, Laurel advisors, and Primary presidents are in this room. How many children will be reared in righteousnes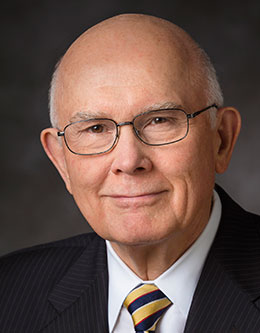 My title and subject today is taken from the Savior's denunciation of the scribes and Pharisees: "Ye pay tithe of mint and anise and cummin, and have omitted the weightier matters of the law, judgment, mercy, and faith: these ought ye to have done, and not to leave the other undone" (Matthew 23:23; emphasis added). I wish to speak about some "weightier matters" we might overlook if we allow ourselves to focus exclusively on lesser matters. The weightier matters to which I refer are the qualities like faith and the love of God and his work that will move us strongly toward our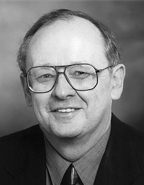 Some of you may be wondering what it would be like to stand here at a podium where prophets, apostles, presidents of the United States, a prime minister of England, Nobel Prize winners, university presidents, and many learned men and women have spoken—particularly some of you who may feel you are not quite as qualified as those who have occupied this place. As the least-qualified devotional speaker in the history of BYU, let me describe the feeling. I last felt this way in August 1966, when I was taking prelim exams in economics at the University of Chicago. The purpose of the exams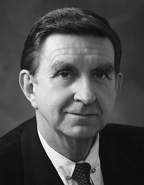 This pleasant introduction reminds me of some of the things I've been up to over the vanished years. I heard recently someone say that nostalgia is a wonderful thing, but what good is it if you can't remember anything? We have very happy memories, and some of them relate to these folks sitting behind me for whom I have the highest and most sincere regard. These kind words also reaffirm the feeling that I had when I gave an answer to a bubbly young woman who detached herself from a handsome boyfriend at the entrance of the Salt Lake Temple and walked over to shake my hand. "Didn't you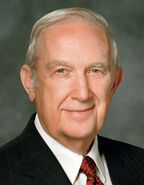 I know that most of you who gathered tonight from across the United States and Canada come with a determination to do what is right. You have had those feelings in your heart to live worthily no matter what others may say. I speak also to others present who want to have such feelings. You are of the finest generation that has come to earth. You have prepared yourself well in the premortal existence and have been selected to come forth in this singularly important time in the unfolding of Father in Heaven's plan. I am deeply moved to be in your presence. I realize that the majority of you do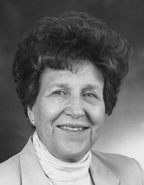 Agency, the power we have to work out our salvation through choosing between good and evil, is the eternal principle that will be the focus of the time I share with you today. Agency is a divine birthright. Bruce R. McConkie encapsulated the doctrinal perspective of agency in these words: Inherent in the whole system of salvation that grows out of the fall of man; inherent in the great and eternal plan that makes of this life a preparatory and a probationary state; inherent in the very atoning sacrifice of God himself—inherent in the whole eternal plan of salvation is the eternal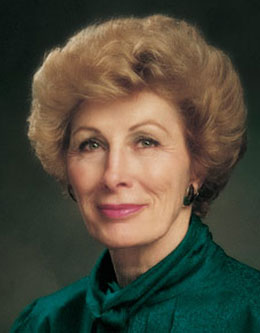 Just before the children of Israel crossed into the promised land, Moses, their leader, gave them a great final lecture. Their leader for forty years, Moses delivered this sermon about the essential knowledge of life, knowing full well he would not accompany his people into their new homeland. What would he have said this last time? Moses told his people the most important things to know if they were to live happily and return to their Heavenly Father. Near the end of his message he laid out their choices very clearly. He said these significant words: I call heaven and eart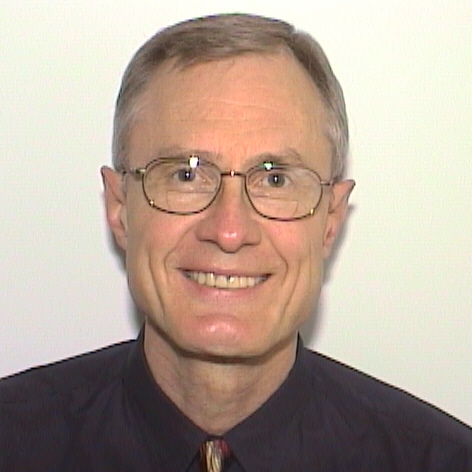 In the thirtieth chapter of Deuteronomy we read, "I have set before you life and death, blessing and cursing: therefore choose life" (19). With these words Moses challenged the children of Israel to renew their covenant with the Lord. We may have heard the same words earnestly addressed to us by parents, teachers, and church leaders. We know what they mean. Or do we? Perhaps we could gain by pondering them together one more time. Gifts from God When Moses stood before all Israel and said, "Therefore choose life," he was only repeating what had first been heard by Adam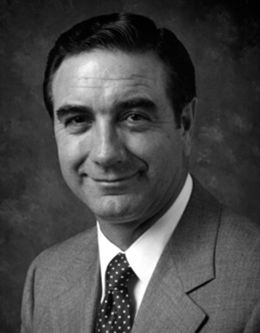 It was exactly thirty-nine years ago, about this time of the month, that I gave my best girl my South African diamond. We are delighted to be here today on this special Valentine's Day, and also at a time when we recognize our national leaders. I'm happy I brought my valentine with me. She will always be one of my very special heroes. She personifies as much as anyone some of the important principles I hope to articulate today. Our Character It is the ultimate design and purpose of our Divine Creator that we develop a Christlike character. A noble character is the pro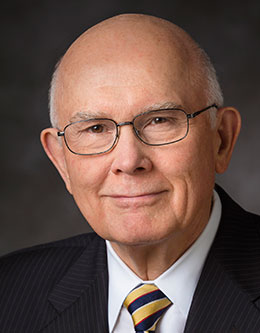 I appreciate this opportunity to participate in BYU's annual symposium on the Book of Mormon. This year you are focusing on the second book of Nephi. That book provides some of our most important doctrinal insights on the significance of free agency in the gospel plan. I have therefore chosen to speak about free agency and freedom. The scriptural terms are agency and free. When we refer to agency, we usually combine the two words and say free agency. But we sometimes use this term to refer to freedom as well as agency. And the scriptural term free sometime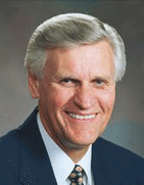 Imagine for a moment what it would be like if you were standing at this pulpit in a devotional assembly. I can remember sitting in the audience at the George Albert Smith Fieldhouse on such occasions, as a student twenty-five years ago, and wondering the same thing. As a student I had the opportunity of listening to prophets and apostles such as David O. McKay, Joseph Fielding Smith, J. Reuben Clark, Harold B. Lee, Spencer W. Kimball, Ezra Taft Benson, Mark E. Petersen, Marion G. Romney, and LeGrand Richards. The overwhelming question that comes to mind is, "What subject can I possib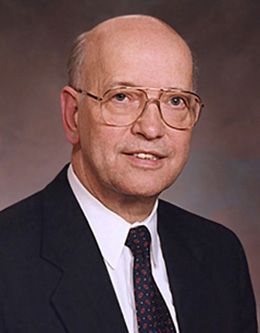 Lately I have been reading some of the discourses of the prophets and the Church presidents and I have found some interesting thoughts, which, in my opinion, are applicable at the present time. In October conference of 1867 George A. Smith said: It is very desirable that all of our brethren who are not acquainted with the English language should learn it. We do not wish to blot out the original languages that they may have spoken, but we want them all—men and women, old and young—to learn the English language so perfectly that they will be able to thoroughly understand for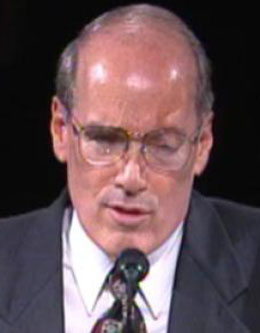 Throughout our years at the university, and for a considerable time thereafter, my wife and I lived in a congested area near downtown Salt Lake City. After graduating from law school, I was fortunate in obtaining a job at the state capitol. Church callings and the proximity of our home to my office caused us to be in no hurry to leave our small apartment, even had our financial situation allowed us to. One of the economies which my wife allowed me to practice was walking to work. The distance was not too great and the Capitol Hill climb kept me fit. One brilliant, warm day, I had com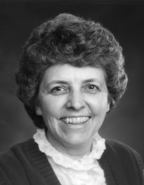 Using the tagline, "spiritual is as spiritual does," Mary Ellen Edmunds reminds us that spirituality is determined by the steps we take to develop it. The text for this speech is unavailable. Please see our FAQ page for more information.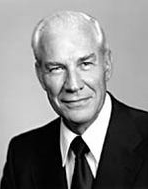 Agency in Mortality Last week a young man came into my office with a serious problem. He had been given a gift that was most precious and had misused it, as did the Prodigal Son. You and I have been given that same gift. Whether we succeed or fail in life will depend upon how we use it. That precious gift which the Lord has given us is agency—the right to choose for oneself. Since the beginning of time, wars have raged over this issue. Agency is the most vital political issue in the world today. The Lord said to Enoch, "In the Garden of Eden, gave I man his agency" (M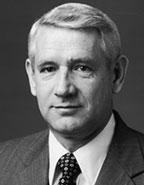 It is a great privilege to be on the campus of this university—and more especially to be here tonight in the spirit of this fireside. I have prayed earnestly that, in organizing the things I would like to say to you tonight, I'd be guided by the Spirit to say what would be appropriate and helpful. I have earnestly sought, in organizing the things I would like to say to you tonight, I'd be guided by the Spirit to say what would be appropriate and helpful. I have earnestly sought for the power and influence of the Lord's Spirit to help me to convey to you the message I have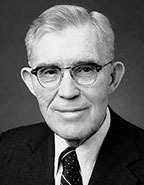 I have one advantage over President Oaks and his father. The time at which I served as a corporal in the 145th Field Artillery was just before Noah's ark. They have claim to a more modern period. Those occasions on which I come to the Y always serve to put me in a position where my heart beats a little longer and a little faster. And I am in trouble—if I put this manuscript on the podium I cannot see it, and if I hold it up I cannot see you. I'll hold it up. [laughter] Your youth, your hopes, your fears, your anticipations, your buoyancy, and, yes, your despairs seem to be so much a
It is a privilege for me, President Oaks, to be here. It is good to come back home again with friends and family and associates and colleagues. My mind goes back to the fact that I was scheduled to teach a class in this room when this building was built, and I remember the first time that I was in the room, before some of the seats were in, I had the responsibility of teaching a Book of Mormon course. I deem it a privilege, my brothers and sisters, to be asked to be here as your devotional speaker today. I consider it a great privilege to be associated with this University in any way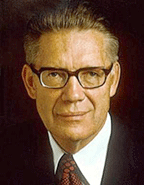 I've been many places with my wife when, as we have met members of the Church, stake presidencies, high councils, and the like, they've said to me: "We're surely glad to meet you, Brother McConkie, and we're most pleased to have Sister Smith with us." I've assured her that that was all right with me, as long as they didn't call me Brother Smith. And now that's happened.* I've sought the Lord diligently, as is my custom, to be guided and directed this morning in what ought to be said—sought him both for myself and for you, so that I might speak and you might hear by the power of the H