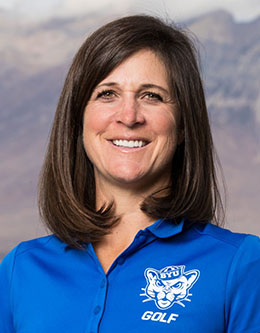 When it was announced that I would be speaking at a devotional, a list of some of the upcoming devotional speakers was posted on the BYU website. When my husband saw my name listed ahead of Elder Dieter F. Uchtdorf and Elder Ulisses Soares, he took a screenshot and sent it to me with text that read, "Listed in order of importance?" This gave me a good laugh but also impressed upon my mind what an honor it is to be speaking at this pulpit. Even though I feel inadequate for the task at hand, I pray that what I have prepared may benefit you in some way. As I pondered what to say, I reac
My beloved brothers and sisters, there is an understandably subdued spirit on the campus of Brigham Young University today. I have thought about you and the student involved in the incident yesterday without ceasing since I learned of this episode. This morning I arose very, very early, and I would like to share with you briefly just a few thoughts that may be of some assistance to all of us. I invite you to consider and to connect four things. First, consider the titles used to describe the Lord Jesus Christ by Isaiah: "Wonderful, Counsellor [please note the word counsello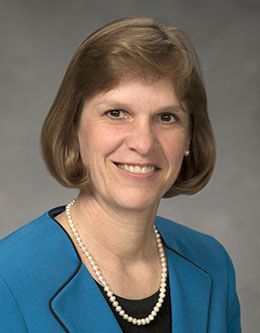 We are taught that "Adam fell that men might be; and men [and women] are, that they might have joy" (2 Nephi 2:25). The second half of that truth makes clear that we are all here on earth to learn from our experiences and especially to learn how to have joy in our lives. However, the word might in that equation indicates that having joy in our lives is not a given. It says that we might have joy, not that we will have joy. Joy is something we have to choose. I be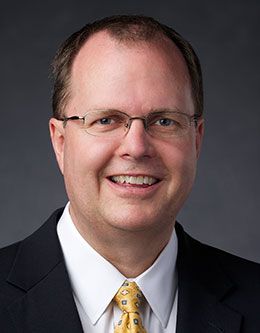 Brothers and sisters, it is a privilege to be with you this morning. Both Melinda and I graduated from BYU, and we love coming back. I prepared this talk with my children and my missionaries in mind. I would like to talk with each of you from my heart as if you were one of my children or my missionaries. Would you please take a moment to think about what you want in the future? I suspect that many things might enter your mind. Some of them might be quite short term: getting a date for the weekend, doing well on finals or your end-of-term paper,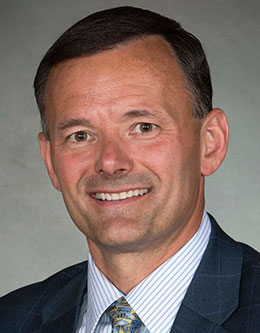 When I was fifteen years old, I worked on a sod farm located close to where the Payson Utah Temple now stands. To cut the sod, we used a harvester that weighed about fourteen tons. One day I was assigned to work with my high school classmate on the back of the harvester. We were moving the harvester from one end of the field to another. I was walking alongside the slow-moving harvester, and I attempted to jump up onto the platform to sit next to my friend. I misjudged my jump and landed only partway on the platform. I lost my balance and fell in front of the double set of dual wheels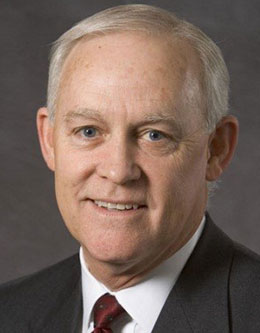 Last October I was assigned to speak in ­general conference. I decided to speak about perfecting our lives so that we could eventually become like our Father in Heaven. In my talk I invited the Saints to participate in a spiritual exercise. I suggested that members take the time to humbly ask the Lord the question "What lack I yet?" and then wait for a prompting from the Holy Ghost. In the weeks that followed, as I visited stakes around the Church, members came up to me and said, "Elder Lawrence, I tried the suggestion you gave in your conference talk. I asked t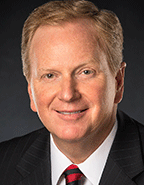 Nothing is more beautiful than the beginning of a new life. I cried and rejoiced at the birth of each of our four children. A new baby is so beautiful, so sweet, so tender. At such moments, the veil between mortality and eternity seems almost transparent, and the love of God is unmistakable. Likewise, I rejoice and get a little teary every time I witness a renewal of spiritual life. How beautiful, how sweet, how tender it is to see the heart changed, the lost found, and the blind restored to sight. Though we may not understand how it happens, we know why—because God loves His childre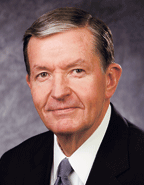 Graduates, families, brothers, sisters, faculty, staff, and friends—as you know, we have gathered to celebrate the accomplishments of those concluding this phase of their academic quests and to honor them for their achievements. In doing so, we also honor those of you who have played such key roles in the lives of those we identify for the special recognitions of the day. The names of the graduates and honorees are found in the official program. While the names of others assisting are not so recorded, the contributions of many kinds and the necessary support rendered are not diminished but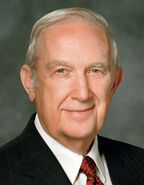 I have prayerfully prepared a message designed to bring you peace and happiness in a troubled world. I know that the truths it contains provide solutions because my precious wife, Jeanene, and I have proven their worth in our own lives. For you to obtain the maximum benefit from our time together, I suggest that you carefully write down any impressions that come to you. They are personalized messages from the Lord sent through the Holy Ghost for your guidance. Temple Ordinances Strengthen the Family and the Home Two of the vital pillars that sustain Father in H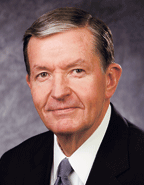 Graduates, families, faculty, brothers, sisters, and friends: It is a signal privilege to welcome each of you to Brigham Young University's commencement exercises. We are gathered to celebrate, to honor you, and to reflect on what has been accomplished and what is yet facing each of you as your circumstances change and your lives encounter needed adjustment. We, of course, sincerely congratulate all who have achieved so much, often with distinction and frequently with challenges more significant than anticipated at the outset. In doing so, we also acknowledge the contributions of those whos
Brothers and sisters, I am honored to be before you today in this devotional setting. I never imagined, as a BYU student in 1968, that in my future I would ever have something important enough to say that several hundred students would show up to hear me—unless, of course, they were getting course credit and I was taking roll! I appreciate the confidence others have shown in me by asking me to speak to you. Since I always start class with a joke or something humorous, I will do the same today to get you into a better mood and help me relax. I was recently searching the want ads in th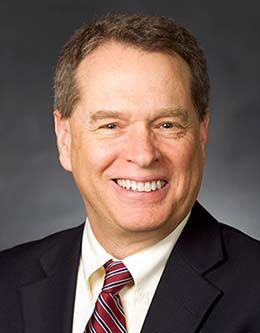 I am both grateful and humbled to be with you today. It is often the case in Church assignments that the one who is called to serve is not the most qualified; rather, those with a need for growth or insight are given the task. I have been greatly blessed by my preparations—blessed in more ways than I could begin to share in the time allotted. I pray that through the influence of the Holy Ghost you may benefit from what I have learned and that we may all be edified together this morning. In my preparations I have felt guided to focus my comments on the theme "Lessons of Pride and Glor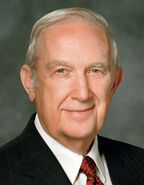 I rejoice in the singular privilege of being on this remarkable Brigham Young University campus with each of you. This entire center is charged with an ennobling spirit that originates from your individual purity and righteousness. With great depth of feeling I express my love for each of you and my profound gratitude for who you are and what you will accomplish in your lifetime. During the past several years, my life has been powerfully enriched by an assignment that has permitted close collaboration with President Cecil Samuelson and key BYU faculty and administrative staff. Simult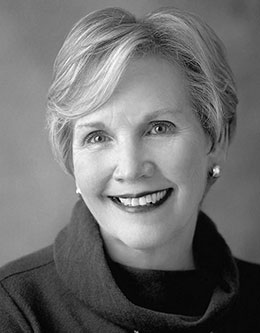 Today is a count-your-blessings day; a day to celebrate. And on a day like today, you have countless reasons: You've finally passed American Heritage; you've landed a job that pays more than the Cougareat; you're finished with 8 a.m. classes; you can stop eating frozen burritos; you don't have to trudge across the quad in two feet of snow; you don't have to memorize every element of the periodic table; you don't have to rack your brain for the most clever way to ask out that prospective eternal companion; and you can stop doing your roommate's dishes. And, of course, it's also a bitt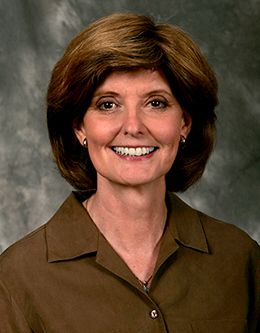 To the paralytic man lying helpless on a bed, Jesus proclaimed, "Be of good cheer" (Matthew 9:2). To the frightened Apostles battling the tempestuous sea, Jesus appeared on the water, declaring, "Be of good cheer" (Matthew 14:27). To Nephi the son of Nephi, who was subject to an arbitrary law threatening his life and the lives of other righteous Nephites if the signs prophesied by Samuel the Lamanite didn't occur, the Lord said, "Lift up your head and be of good cheer" (3 Nephi 1:13). As Joseph Smith met with ten elders about to be sent out, two by two, to missions fraught with trouble and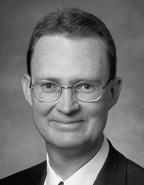 My soul delighteth in the things of the Lord," wrote Nephi, "and my heart pondereth continually upon the things which I have seen and heard" (2 Nephi 4:16). Yet in the verses that follow, he expressed sorrow and even grief because of his weaknesses. Sometimes known as Nephi's Psalm, these twenty powerful verses in 2 Nephi chapter 4 give us unique insights into the process he went through to lift himself out of discouragement and to renew his faith and determination in the Lord. I would like to spend the next few minutes examining these verses. My hope is that, by looking carefully at Nephi'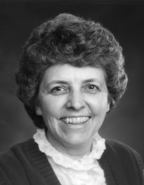 Whiplash One winter's morning during a snowstorm, I took my mother to have some blood tests done. It was "white-knuckle" driving on snowy, icy roads. We were headed home and going around a corner very slowly. The car hit black ice, and as if in slow motion, we headed for the curb. THUNK! I quickly asked Mom, "Are you OK?" "Yes." We continued cautiously, slowly. Then I said in an oh-so-sarcastic kind of way, "So I suppose you're going to sue me for whiplash." Instantly she jumped in, moaning and holding her neck. "Oh . . . ohhhhhh . . . oh, my neck hurts.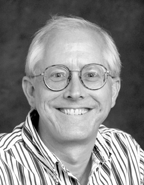 The title of my remarks is "Happily Ever After." If you don't remember anything else that I say, please remember the following three points: 1. "Happily every after" does NOT happen without continuing effort. 2. We should not get discouraged when our careful plans and solutions don't always lead to calm, clear sailing. 3. Don't assume that the lives of those around you are cloudless and sunny just because the sun is shining where you are. The Causes of and the Responses to the Recent Accounting Scandals I teach accounting. I love accounting. The c
Elder Bateman: We welcome you to the first, official devotional of the 2001–2002 school year. We welcome a television audience that stretches across the United States and around the earth via satellite. One week ago Sister Bateman and I were prepared to address this same forum when tragedy struck New York City and the Pentagon. The events of that day have had an impact not only on the United States but on the entire world. Most governments now realize that no one is safe if terrorists are allowed free rein to develop secret networks and plan strikes against innocent people. It remind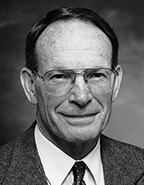 It seems most appropriate that we should not pass this day without recognizing the remarkable gift given to us some 56 years ago today. It was on that day that Allied forces, some 175,000 strong, fought their way ashore in Normandy to begin the final phase of the worst worldwide conflict in recorded history. That generation of young men, living and born during the Great Depression, gave of themselves in a way we almost seem to have forgotten. These soldiers portrayed a selflessness so dramatic and powerful that journalist and author Tom Brokaw has represented them as "the greatest generatio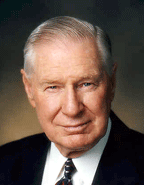 My beloved brothers and sisters, to be on this campus and in your presence is always a joy. I must confess, however, that I feel overwhelmed at the prospect of addressing so many of you and saying something that justifies taking you away from your studies. I do not have the answer to all of life's questions. I don't even know all the questions! I feel a bit like the college professor who asked a student during an examination: "Does the question embarrass you?" "Not at all, sir," replied the student; "not at all. It is quite clear. It is the answer that bothers me!" (From 10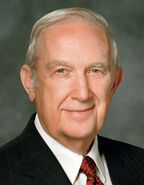 Through repeated prayers offered in preparation of this message, I have had one objective: that I be led to communicate truths that would significantly help each of you find happiness. I recognize that the great majority I address are faithful sons and daughters of Father in Heaven who strive to obey his commandments—or sincere individuals who want to do so. For that reason I would speak to each of you as though we were in a private conversation where we share our purest feelings, our aspirations, our hopes, and our dreams as two can do when there is mutual trust and a common basis of belie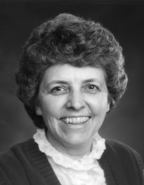 I pray that the Holy Ghost will help us receive what we need this morning—that both your prayers and mine will be answered. I want to begin by sharing a little story I first read many years ago: Two little children were put early to bed on a winter's night, for the fire had gone out, and the cold was pouring in at the many cracks of their frail shanty. The mother strove to eke out the scantiness of the bed-covering by placing clean boards over the children. A pair of bright eyes shone out from under a board, and just before it was hushed in slumber, a s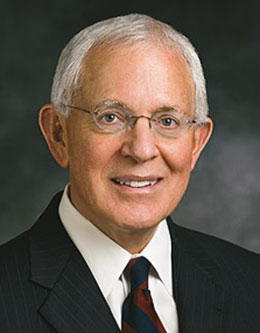 Good morning, my beloved young brothers and sisters. Thank you for inviting me to be here with you today. Nothing reminds me so forcefully of my advancing years as facing an audience of vibrant and wholesome young people like you. For years I gave little credence to the so-called generation gap, but now I'm willing to at least allow that such a social phenomenon exists. Periodic personal encounters with those of your age group reinforce my suspicions that I probably have less and less to say that you may find relevant or interesting. For instance, not many years ago, when our oldest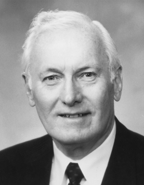 Greetings to all! What a great blessing to me personally to be here, to share a few thoughts with you, and to express my testimony of the Lord Jesus Christ. I have so many blessings—all too many to enumerate here. My family, as with most of you, is at the top of my list. Another great blessing, which we take for granted all too often, is this outstanding school of higher education. This is a blessing. It is also a blessing to be a student here. (And, by the way, it's okay to lose once in a while to that school to the north.) When first asked if I would accept this invitation t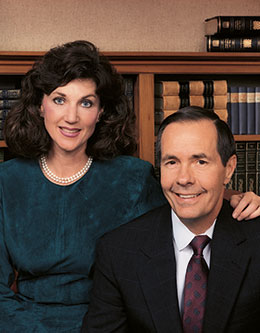 Janet: Several months ago while Rex and I were attending a BYU regional conference, we sat on the stand overlooking a sea of students. My mind whirled back over the years, remembering treasured moments from my own BYU experiences. I recalled having heart-to-heart talks with my roommates, walking through gently falling snow on the way home from the library, and reading or getting ready to go out without the responsibility of house and children. I also remembered feeling the sense of accomplishment when a paper was completed or an exam behind me, falling in love, and graduation.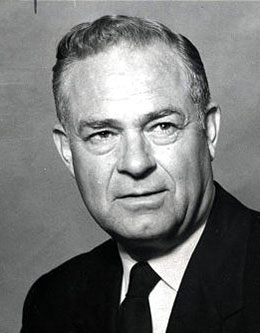 Find a Way to Enjoy It I have borrowed for my remarks this evening somewhat from one of my wife's talks given recently, and I hope that I can do justice to it. The story that I refer to begins when I was appointed to be the mission president in Brazil. As we presented this assignment to our children, our nine-year-old daughter was desolated with the thought that she would have to leave home and all her friends. We did our best to settle her down and brought out some pictures and showed examples of experiences we might have. It comforted her a little, and she then asked, "How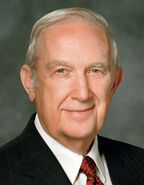 I do not know those for whom this message is specifically intended or to what portion of those present it directly applies. I am confident, however, that if I am supported by your faith and prayers as it is delivered so that I can give expression to the deep feelings of my heart, this message will be of significant benefit to some who need it, provided they apply consistently in their lives the principles emphasized. I do not say this with any degree of personal pride, but in humble recognition of the experience I have had in its preparation. Seldom have I struggled as long and as hard to c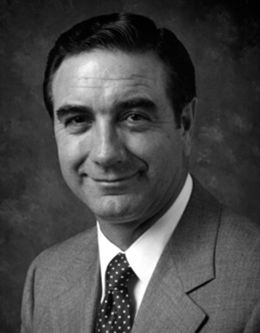 I am honored to be here, but I must confess that it does not get any easier. I hope that all of you will remember as you attend Brigham Young University that your parents have been undergoing a very liberal education in how to be parents. I hope too that as you gain greater knowledge you gain some compassion for the process of that liberal education which they have been experiencing. Not too long ago I read a speech by Max Isaacson. He talked about his frustration as a parent in this educational process. He said that someone has reported that by the time the average person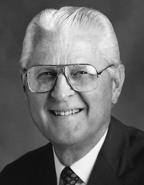 Good morning. I think I am glad to be here. I have been thinking a lot about this assignment. Last week, after Bishop Clarke was here, I asked him how he got along and how he felt about what went on. He said, "Well, they gave me every chance to be a success, and if I wasn't, it wasn't their fault." My favorite people are, of course, women because I have five daughters and no sons. And then to have the Women's Chorus sing one of my favorite numbers ["The Wintry Day, Descending to Its Close"] has thrilled me. Over the years our daughters have learned to play several numbers on the piano that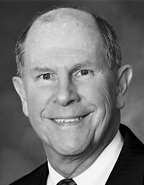 My brothers and sisters, it is a real privilege to be here at BYU and have this choice opportunity to share with you for a few moments some of my feelings. I appreciate Sister Gardner singing something so appropriate and with such a theme as "Trust in the Lord." I suppose if there was one message I had for you today, that would be a good one—to trust, in all things, in the Lord. I am thankful, President Oaks, that you have attempted to make this a special occasion for me by indicating that my alma mater was Arizona State University. I can see that you have moved this ASU banner from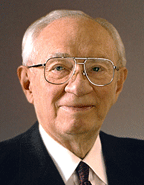 It is good to be here with you this morning, my dear young friends. I ask that the Lord will help me to say something that will help you. Recently I spent the better part of a week in Washington, D.C., living in a hotel room. Each morning I watched the early news on television and then read the morning paper while eating breakfast. President Ford had just granted a pardon to his predecessor. The amount of venom that spewed from the mouths and pens of the commentators was unbelievable. They were aflame with indignation. In all that week of morning watching and reading I never heard no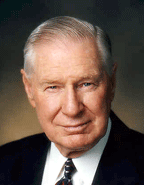 My beloved brothers and sisters, it's a great thrill to be here and to see you all and to have heard these lovely musical numbers. I remember some years ago traveling along a street where there was a church. In front of the church was advertised what would take place the coming Sunday, and the sign on this particular day said, "What hell is like"; then written below was "Come and hear our choir." This evening we've heard a heavenly choir. And if you could have seen the charm and the grace and the enthusiasm on Sister Troub's face as she led this group, you would have beheld something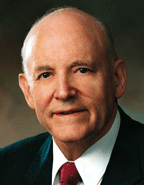 President Harvey L. Taylor, faculty, and ­students—all of you being my brothers and sisters—I am grateful for the privilege of standing today in this great fieldhouse at your devotional assembly. I bring you nothing startling. I merely came to chat with the students for a little while this morning during this devotional hour. The Time for Decision You are living in a wonderful age; you are living in the wonderful time of your lives. I often think of our lives as being like the sun crossing the sky. The period around dawn represents the time of birth and childhood. You