Most-Viewed BYU Graduation Speeches
April 17, 2020 • Blog Post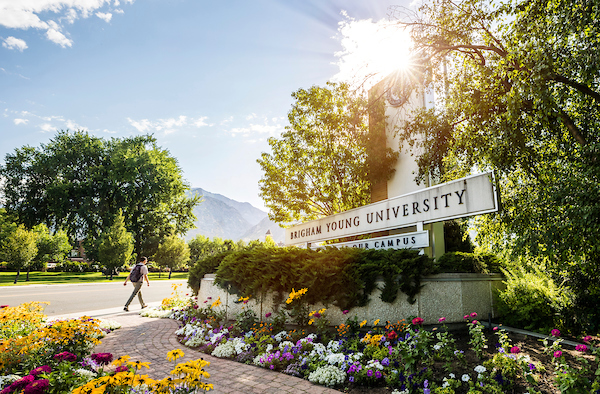 Photo by Nate Edwards
With COVID-19 keeping most of us at home, 2020 is a year without graduation and commencement addresses. But the BYU Speeches archive of more than 85 years of graduation speeches is chock full of inspiring and hopeful words for our graduates. Here's our top-10 most-viewed commencement addresses, including two talks by Russell M. Nelson and a legendary honorable mention on "the robes of a false priesthood."
"Whatever undertakings may demand of you and of your attention, I tell you, young men and young women, you cannot make a better resolution today than this: 'I am going to keep close to the Lord. I am going to understand Him better, and, understanding Him, I will understand myself and will try to put my life into harmony with His.' For I have come to know that every man and every woman has potential godhood dwelling in him, for God is in reality the Father of us all."
"Brothers and sisters, undergirded by incontrovertible truth, proclaim your love for God! Proclaim your love for all human beings 'with malice toward none, with charity for all.' They as children of God are our brothers and sisters. We value their rights and feelings. But we cannot condone efforts to change divine doctrine. It is not for man to change.
"God loves His children. And if they love Him, they will show that love by keeping His commandments, including chastity before marriage and total fidelity within marriage. . . .
"Dear graduates, families, and friends, the burden of discipleship is heavy. As disciples of the Lord you will stand as defenders of marriage. And as you are true and faithful, not only will He help you and protect you, He will bless your families."
3) D. Todd Christofferson, "Greatness," August 16, 2007
"Jesus said that 'every idle word that men shall speak, they shall give account thereof in the day of judgment.' We are told that in this day of judgment, if we have rejected God or neglected His counsel, 'our words will condemn us, yea, all our works will condemn us; . . . and our thoughts will also condemn us.' There is a happy corollary to being judged in these things. It is that the very details of our lives are of interest to God, that He cares about all of it—words, works, even thoughts. His interest and love are infinite in this way, and He will respond to our hopes and pleadings and help us in everything, including matters that seem unimportant or insignificant to others or even to ourselves. Rest assured that you can rely on Him as you strive to establish the foundation of greatness in your life.
"Your greatness in the things God has ordained as primary and fundamental will not come in a day or with one grand act. It will be built over time with the sort of patient, persistent effort that has brought you to the achievement that we are celebrating today."
"The overarching purpose of Heavenly Father's great plan of happiness is to provide His spirit children with opportunities to learn. The Atonement of Jesus Christ and the agency afforded to all of the Father's children through His infinite and eternal sacrifice are divinely designed to facilitate our learning. The Savior said, 'Learn of me, and listen to my words; walk in the meekness of my Spirit, and you shall have peace in me' (D&C 19:23). . . .
"You and I are here upon the earth to prepare for eternity, to learn how to learn, to learn things that are temporally important and eternally essential, and to assist others in learning wisdom and truth (see D&C 97:1). Understanding who we are, where we came from, and why we are upon the earth places upon each of us a great responsibility both to learn how to learn and to learn to love learning."
"If you enter the job market now, you will do so at a time of economic distress. Job opportunities throughout the world are diminishing and becoming more competitive. You will need to work hard and perform well to hold a job in the difficult days that lie ahead. . . .
"Throughout history economic conditions have been cyclic in nature. So you will live to see more ups and downs in the economy, just as surely as you will see the seasons change. . . .
"To assist us in that quest, we have been given help through the teachings of God's prophets and the scriptures. Here is one example: 'Cursed is he that putteth his trust in man, or maketh flesh his arm.' To rephrase that in today's terms, if you trust only in your 401(k)s or IRAs, your retirement plans may be disappointing. But your investments in tithing will continue to pay rich dividends—here and hereafter. Indeed, the nest egg of tithing will never be eroded."
"Go out there and light a candle. Be a ray of light. Be your best self and let your character shine. Cherish the gospel of Jesus Christ and live it. The world needs you, and surely your Father in Heaven needs you if His blessed purposes for His children are to prevail. You have entered to learn. Now go forth to serve and strengthen. If correcting all the world's ills seems a daunting task, so be it. Go out there and be undaunted. If we cannot look to you to change the world, tell me to whom we should look."
"Some say we need to agree more, but that is wrong. Disagreement is good, because competition is good. It makes us sharp and strong, whether in sports, in politics, in economics, or in the world of ideas. We don't need to disagree less; we need to disagree better. Other people say we need more civility. But that is wrong too, because civility is a hopelessly low standard for us as Americans. Imagine that I told you that my wife, Esther, and I are 'civil to each other.' You would say we need to get some counseling!
"If we are going to beat the problem of contempt, we are going to need something more radical than civility—something that speaks to our heart's true desire. We need love, which was defined by Saint Thomas Aquinas as 'to will the good of the other.' We need a new generation ready to model lives of love in the midst of a culture of contempt."
"Your Father, your Heavenly Father, will do anything for you. He wants nothing but your eternal happiness and success. He is providing you with a learning experience so much richer than the one for which you are being honored today. You are being prepared for life, eternal life, and exaltation. You have an outline of the syllabus, but large pieces of the course have no textbook. The course requirements and the rubric are individually tailored to each of you, and because of the wisdom and omniscience of God, no two are alike. Your Father is eager for you to complete the course and return to Him—and to do so joyfully! The course He has created for you is entitled discipleship, and the path of discipleship is your life's work. This will be your training ground, where you will be proved and you will learn what you need to learn to make your way home."
"The world would often teach us that we are what we do. It does not take long in most social gatherings to realize this. One of the first questions that is asked when meeting a new person in a professional setting is 'What do you do?' The answer to that question not only determines the subject and length of the ensuing conversation but also often creates the identity of the respondent from that point on. . . .
"Who you are is extraordinary—'beloved . . . son[s] or daughter[s] of heavenly parents' with 'a divine nature and destiny.' And as a result of who you are—and who you can become—you can have a profound impact on those around you, not only in your jobs but also in your communities and, most important, in your homes."
10) Cecil O. Samuelson, "The Changing World," August 11, 2005
"How do you view the changing world? I hope it is with optimism and encouragement rather than with the disappointment or dismay that we find in some circles. It is true that each of us will need to be adaptable and proactive in our approaches to the future. It is also true that the most portable and precious skill that you will take with you as you leave Brigham Young University is your well-honed capacity to learn continually and to accommodate your attributes and your talents to the changing world before you.
"You have learned important and significant approaches, facts, skills, procedures, theories, and truths. Some of the most important and some that make BYU both unique and necessary are not changeable—nor will they change. These are the moral and ethical values that are deeply imbedded within you; the bedrock details of your testimonies of the reality of our Father in Heaven and His Son, our Savior and Redeemer, Jesus Christ; the vitality and actuality of the restoration of the gospel through the Prophet Joseph Smith in our day; the absolute veracity of the Book of Mormon and the other canonized revelations; and the wonderful blessings of living in a time and in the midst of living prophets. Many other things will change and must, but these will not and cannot."
Honorable Mention: Hugh Nibley, "Leaders and Managers," August 19, 1983
"Leaders are movers and shakers, original, inventive, unpredictable, imaginative, full of surprises that discomfit the enemy in war and the main office in peace. For managers are safe, conservative, predictable, conforming organization men and team players, dedicated to the establishment.
"The leader, for example, has a passion for equality. We think of great generals from David and Alexander on down, sharing their beans or maza with their men, calling them by their first names, marching along with them in the heat, sleeping on the ground, and first over the wall. A famous ode by a long-suffering Greek soldier, Archilochus, reminds us that the men in the ranks are not fooled for an instant by the executive type who thinks he is a leader.
"For the manager, on the other hand, the idea of equality is repugnant and indeed counterproductive. Where promotion, perks, privilege, and power are the name of the game, awe and reverence for rank is everything, the inspiration and motivation of all good men. Where would management be without the inflexible paper processing, dress standards, attention to proper social, political, and religious affiliation, vigilant watch over habits and attitudes, and so forth, that gratify the stockholders and satisfy security?"