Walking with the Shepherds
December 21, 2018 • Blog Post
I just wanted to get in and get out with my cough drops, Nyquil, and Kleenex. My head was foggy and my eyelids heavy, and the call of my pillow was prominent in my thoughts. But there was still a long checkout line in Walmart ahead of me.
As I irritably waited, the noise of the store's radio made its way to my consciousness and with it came an unexpected message: "O come, let us adore Him! O come, let us adore Him!" In all of the hustle and bustle of this store, strewn merchandise surrounding me as a tangible manifestation of the commercial season, a testimony of the Savior heartily rang out to hundreds. "How beautiful!" I thought. "How amazing that, out here in a secular place, in our politically correct era, I can hear this bold sentiment of belief: 'O come, let us adore Him, Christ the Lord!'"
Photo Credit: Olga Ptashko
A Lowly Witness
The words brought to mind another much quieter and simple place—Bethlehem. Six months ago I traveled to the Holy Land, which included a visit to Shepherds' Field near Bethlehem. Our tour group had just come from the Church of the Nativity, where beautiful ornamentation celebrated the traditional site where Christ was born. At the fields, the beauty of nature was all the ornamentation needed. Miles of rolling hills spread out before us, where we could see actual sheep and actual shepherds.
We gathered and read the words of the angels to those humble servants 2,000 years ago: "Fear not: for, behold, I bring you good tidings of great joy, which shall be to all people. For unto you is born this day in the city of David a Saviour, which is Christ the Lord" (Luke 2:10–11). We talked about how it would feel to hear those words and how those words weren't just for the shepherds but for "all people."
As we revisited this story, I imagined the shepherds approaching the stable, nestled in that dark night. I saw a tired Mary, holding her baby and pondering upon what this child would do and maybe feeling very much alone in her newfound motherhood. And then, a group of men appear in the doorway. They quietly tell her why they are there: There were angels—multitudes of them. They sang in glorious song about your son, this little baby. They said He was our Savior! We had to come.
I imagined how comforting to Mary it would have been to hear others testify of what she knew, of the role her son would carry out, to solidify her own feelings. Yes, this babe is the Savior. I thought how in her vulnerable state after delivering a baby, she was greeted by humble shepherds, men and boys who were much like her and her family. Kings would come see the baby later, but on this night, Heavenly Father sent lowly shepherds to be the first witnesses of the Redeemer's birth.
For All People
Since that first Christmas night, many have witnessed of Christ. Like the shepherds of old, many have come to Him, to behold His glory and receive His Atonement. As I've thought of those witnesses, I've realized that it is incumbent upon all who follow Him to also be witnesses—to come and adore Him. As Elder Bruce D. Porter taught, we are all invited to behold the cause of the good tidings of great joy:
Brothers and sisters, join with me and behold your God! Behold your God, born as a little child in Bethlehem and wrapped in swaddling clothes. Behold your God, born in poverty and simplicity that He might walk among common people as a common man. Behold your God, even the infinite and eternal Redeemer, the Messiah, veiled in flesh and come to live upon the very earth that He created. ("A Child Is Born," 9 December 2008)
As I left Walmart that night, remembering my experience at Shepherds' Field, I brought home plenty of medicine to soothe my physical ailments, but I also took with me a restored focus on He who provides healing from our deepest wounds. In a season when it's easy to get bogged down by all the celebrating, I'm hoping to carve out more space to metaphorically walk to the stable where a baby lay who would change the world—to pause there, bow my head, and adore Him.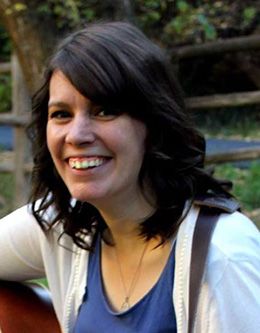 Amanda Kae Fronk is the communications manager for BYU Speeches. She is an avid collector of hobbies with book buying, nature watching, and food sampling being among the most enduring. She aspires to one day be called a master wordsmith, a woman of grace, and an owner of a devoted heart.