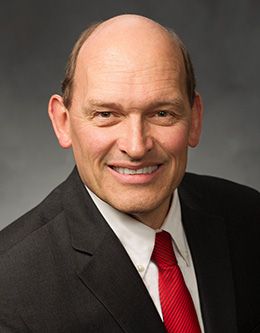 Alexander L. Baugh
Alexander L. Baugh was born in 1957 to parents who were devout members of The Church of Jesus Christ of Latter-day Saints and who encouraged him from a young age to develop his own personal testimony. His devotion to religion has shaped not only his family life and personal relationships, but also his academic and professional career.
A native of Logan, Utah, Dr. Baugh served in the Virginia Roanoke Mission from 1976 to 1978. He received a bachelor's degree from Utah State University in 1981, and shortly thereafter began working as a seminary instructor for the LDS Church Educational System at Bountiful Viewmont Seminary. During this time, he was not only a seminary teacher, but also a student, working to complete a master's degree in history with an emphasis in Western American and Mormon History from Brigham Young University. From 1987 until 1991, he taught in BYU's Department of Religious Education while pursuing his doctorate degree.
Remaining with the Church Educational System, Dr. Baugh moved to South Carolina, where he coordinated the Church's seminary program and served as director of the LDS Institute of Religion. In 1995, he returned to BYU's Religious Education Department, this time as a full-time employee. The following year, upon completion of his PhD in American history, Dr. Baugh became an assistant professor in BYU's Church History and Doctrine Department. In 2002 he attained the status of associate professor.
Dr. Baugh is the author, editor, and co-editor of ten books and has published over 80 articles, essays, and chapters in volumes such as The Joseph Smith Papers, The Encyclopedia of Mormonism, Regional Studies in Latter-day Saint Church History, Encyclopedia of Latter-day Saints, and Joseph Smith: The Prophet, the Man. He is a former editor of Mormon Historical Studies and a past co-director of research for BYU's Religious Studies Center. He is a former member of the Mormon History Association, and from 2006 to 2007, he served as president of the John Whitmer Historical Association.
Dr. Baugh has served in the Church as an elder's quorum president, high priest group leader, stake high council member, young men's president, and as bishop for the BYU YSA 61st ward. As professor and chair of the Church History and Doctrine Department at BYU, he specializes in researching the Church's history from 1831 to 1839, which is known as the Missouri period. He enjoys personal record-keeping, photography, and cooking. He and his wife, the former Susan Johnson, are the parents of five children.
---
---