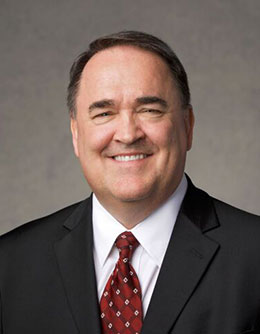 Allen D. Haynie
Elder Allen D. Haynie has served as a General Authority Seventy of The Church of Jesus Christ of Latter-day Saints since his sustaining on April 4, 2015. Prior to this calling, he was a member of the Fifth Quorum of the Seventy in the North America West Area. His previous responsibilities include service as a member of the Philippines Area Presidency, North America Northeast Area Presidency, and South America South Area Presidency. As a young man, Elder Haynie served a full-time mission in the Argentina Córdoba Mission. Currently, he is the Area President in the North America Northeast Area. 
Elder Haynie earned a bachelor's degree in political science in 1982 and a juris doctor in 1985, both from Brigham Young University. For 25 years, he practiced law with the international law firm of Latham and Watkins, after which he established his own law firm. 
Elder Haynie grew up in Utah and California. In December 1983, he married Deborah Ruth Hall, and they are the parents of six children. 
---
---