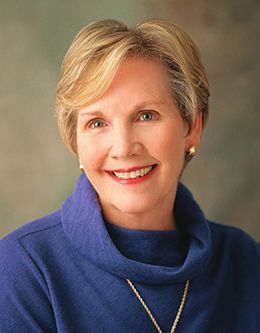 Bonnie D. Parkin
Sister Bonnie D. Parkin is well-known for her time spent serving as the Relief Society General President of the Church of Jesus Christ of Latter-day Saints. She was born in 1940 in Murray, Utah. She was the middle of five children. She was raised in Herriman, Utah and was taught about her deep pioneer ancestry. Her parents raised her to have a strong testimony of Jesus Christ and His redeeming love.
Sister Parkin attended Utah State University and graduated with her bachelor's degree in elementary education and early childhood development. Upon graduation, she accepted a teaching position instructing third graders. A year after her graduation, she met James Parkin. James was in his first year of medical school. That summer, they were married. They are now the parents of four children.
Sister Parkin served on the Relief Society general board before she was called to be the Relief Society General President. She was responsible for a committee that helped young women transition into the Relief Society program. This service helped prepare her for her move to her new calling as second counselor in the Young Women General Presidency. When her husband was called to preside over the London South Mission, they relocated. Sister Parkin, while fulfilling different duties than her husband, served admirably and helped many young missionaries during her time in London.
Sister Parkin served as the Relief Society General President from 2002 until 2007. She prayed and studied in preparation for her calling to know what God would have the women of the Church learn during her time in her calling. She was passionate about helping others feel the love the Lord has for them. Additionally, she loved being a homemaker and wanted to create a safe place for others to come. Ultimately, her love for the Savior inspired and taught many.
---
---