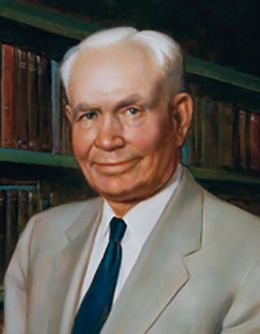 Bryant S. Hinckley
Bryant S. Hinckley was born in 1867 in Coalville, Utah. He is well known for his many contributions toward the establishment of Brigham Young University. At age sixteen, Bryant was sent to what was then Brigham Young Academy with his fourteen siblings. His experiences at BYA shaped the rest of his life. Bryant greatly respected Karl G. Maeser and learned much from him during his time attending BYA. Bryant had a great talent for speech and communication, even delivering a speech at his own commencement ceremony. His life was marked by public speaking, and he used his gift to encourage growth and goodness in those he spoke to.
In 1893, he returned to BYA as a professor of commerce and head of the Commercial Department for almost a decade. After his time at BYA, he moved to Salt Lake City to become the president of the LDS Business College. Shortly thereafter, his first wife passed away. Bryant later married Ada Bitner. Their first child, Gordon B. Hinckley, would later become president of the Church of Jesus Christ of Latter-day Saints.
Bryant was called to be the mission president of the Northern States Mission from December 1935 to July 1939. He was also instrumental in starting the first stake missionary program of the church. He continued to serve BYA (now BYU) throughout the rest of his life, helping with the Alumni Association and establishing the Emeritus Club. He has written more than thirty books in his lifetime, many of which explain Church doctrine and encourage perseverance in the readers. He passed away in 1961.
Bryant Hinckley is honored for his contributions to BYU. The university would not be the same were it not for his influence. A portrait of him hangs in the visitor's center, a bust of him rests in Hinckley Hall, and one of the lecture halls in the Jesse Knight Building is named after him.
---
---