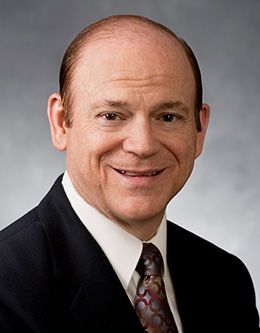 C. Raymond Smith
C. Raymond Smith came to BYU in the fall of 1982 to become the first-ever professor of saxophone and to take over the highly successful premier jazz ensemble of the university, Synthesis, from his men­tor, K. Newell Dayley. As a result, both the saxophone program and the jazz area have grown to become well recognized nationally and internationally. Synthesis has toured extensively and performed at many of the world's great jazz festivals. Brother smith also served as the director of jazz studies. Many of Ray's CD proj­ects and BYU-TV programs have been recorded and distributed widely.
As a performer, Ray is equally adept at saxophone, flute, clarinet, oboe, bassoon, ethnic flutes, recorders, and the Electronic Wind Instrument. He is equally at home in a jazz-related set­ting or a classical setting, in a recording studio or on the concert stage. In fact, Ray has performed with every woodwind section in the Utah Symphony. He is well documented on over 180 CDs, on many television jingles, on Tabernacle Choir broadcasts, and on movies and radio. For four years he could be heard every morn­ing on ABC's Good Morning America. Smith also founded the Utah Saxophone Quartet and the jazz group Q'd Up, both of which are well-represented on CD. In 1998 he was given the Voice of Jazz Award for the state of Utah and in 2008 was recognized by the International Association for Jazz Education as the first Utah Jazz Master, a lifetime achieve­ment award "for profound contributions and virtuoso performance in the field of jazz in Utah." He has also served on both the Utah Arts Council and the Orem Arts Council.
Ray has served in many callings in the Church, and he and his wife, Debbie, have eight children.
---
---