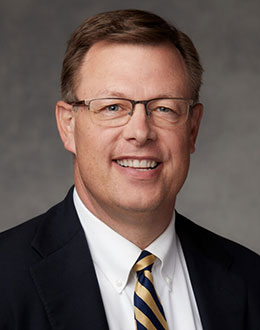 Clark G. Gilbert
General Authority Seventy
Clark Gordon Gilbert was born in Oakland, California on June 18, 1970, to Paul and Susan Gilbert. His family stayed in Oakland while his father attended the UC Berkley School of Law. After his father's graduation, Elder Gilbert's family moved to Phoenix, Arizona, where he spent his childhood years. 
Throughout his childhood, Elder Gilbert's parents nurtured the idea that the gospel and education were intertwined. This made attending BYU a special experience for him due to its Christ-centered curriculum.1 Elder Gilbert served as a missionary in the Japan Kobe Mission before returning to BYU to continue his education. Thanks to his proximity to his sister's apartment, he quickly became acquainted with her roommate, Christine Calder. He and Christine were sealed a year later in the Salt Lake Temple on February 5, 1994, and they are now the parents of eight children. 
Elder Gilbert graduated from Brigham Young University with a bachelor's degree in international relations. He then received a master's degree in East Asian studies from Stanford University. Afterward, Elder Gilbert moved his family to Massachusetts, where he attended Harvard Business School and earned his doctorate in business administration. 
After finishing his doctorate, Elder Gilbert joined Harvard's faculty as  a professor of entrepreneurial management. However, Elder Gilbert dreamed of returning to BYU. In 2006, he was invited by Kim B. Clark, a former dean of Harvard Business School and the current president of BYU–Idaho, to come and visit the BYU–Idaho campus in Rexburg, Idaho. Elder Clark's dream shifted after this visit, and he and his family moved to Rexburg, where he became the academic vice president of BYU–Idaho. During his time at BYU–Idaho, he helped launch BYU–Pathway program which would one day become BYU—Pathway Worldwide. 
In 2009, Elder Gilbert was offered the position of president and CEO of Deseret Digital Media, where he would work on changing the Church's media to fit the new, online age. He was made president of Deseret News the next year. In 2015, Elder Gilbert was called back to Rexburg and announced as the 16th president of Brigham Young University–Idaho. Elder Gilbert left his position in Idaho two years later to become the president of the newly launched BYU–Pathway Worldwide in Salt Lake City, Utah. 
Elder Gilbert fulfilled this calling for many years, along with a variety of church callings including Area Seventy, until he was called as a General Authority Seventy in April of 2021. Still following the pattern of "by study and by faith" taught to him by his parents, Elder Gilbert now serves as the commissioner of the Church Educational System. 
See

Scott Taylor, "

How

E

ducation,

F

amily and

T

estimony

A

re

I

nterwoven

T

hreads in the

L

ife of Elder Clark G. Gilbert

,"

Church

N

ews

,

May 2021.
---
---