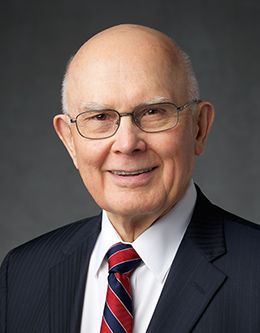 Dallin H. Oaks
First Counselor in the First Presidency
Early Life
Dallin Harris Oaks was born in Provo on August 12, 1932. Even as a young boy, leadership came naturally to him. Recalling those early years, his sister Evelyn O. Moody once commented, "Whenever we got together for family parties, it was funny to watch because Dallin . . . was always the leader. He would tell who were the cops and who were the robbers . . . Before anyone else could turn two wheels in his brain, Dallin had the whole thing organized."1 
Those leadership skills served a greater purpose when Dallin's father passed away just before he turned eight, leaving his mother, Stella Harris Oaks, to raise three young children alone. He began working at age eleven to help support his family and has been working ever since. He also gained a foundation of faith in these early years; he recalls his faithful mother encouraging her children to pray about their feelings in order to make sure they were doing the right things for the right reasons. 
Young Dallin's first job was sweeping floors and testing tubes in a radio repair shop. He was soon studying radio theory, and by age fifteen he had passed the FCC license exam (one of the youngest to ever do so), becoming a transmitter engineer. He continued his work as a radio transmitter and announcer as he entered Brigham Young University, where as a freshman he met June Dixon. They were married after his sophomore year in 1952. 
Education, Family, & Career
President Oaks has said that his initial studies at BYU were "erratic," but he eventually settled into accounting and graduated in 1954. He then went on to the University of Chicago Law School, where he graduated cum laude in 1957. During these busy and stressful years, family was still a top priority; he recalls coming home to June and his children, who were always eager to play. One of their favorite games was "Daddy be a bear," and they all enjoyed it so much that once, when Dallin Oaks was administered a Rorschach test, his test administrator was puzzled that he seemed to see bears in so many of the inkblots! Dallin and June had six children together, who joke that his motto of "work now, play later" really meant "work now, play never." In actuality, the motto helped him decide to have fun with whatever he did, even during long hours of work. 
Dallin Oak's promise showed immediately in his career; he clerked for Chief Justice Earl Warren of the United States Supreme Court before returning to Chicago for private practice. In 1961, he returned to his alma mater as a faculty member. During this time as a professor, he participated in a disciplinary committee for a 17-day sit-in, earning respect for his fairness and diplomacy. He also served as the associate dean and acting dean of the law school, worked as the assistant state's attorney, traveled to the University of Michigan as a visiting professor, spent a year as the executive director of the American Bar Association, and served in a stake presidency until his appointment as president of Brigham Young University. Such experience proved critical as President Oaks led the establishment of the J. Reuben Clark Law School at Brigham Young University. He served as president of Brigham Young University from 1971 to 1980—just after the explosive expansion of the school in the sixties.  
The accomplishments of his administration at BYU are numerous, and he led in a spirit of hard work and camaraderie, establishing a firm foundation that influences the university to this day. While at BYU, President Oaks' subtle sense of humor was endearing. For example, during the university's centennial celebration, one faculty member suggested they should all grow beards in honor of their predecessors. Without a moment's hesitation, President Oaks replied, "Yes, all faculty members who would like to should grow beards, and they will be paid in carrots and potatoes, as were their predecessors."2 
After his tenure at BYU, Elder Oaks served with distinction as a justice of the Utah Supreme Court from 1980 until he resigned in 1984 to accept his calling to the apostleship. 
Late Life & Church Service
In 1998 June Dixon Oaks passed away from cancer. Two years later, after they first consulted each of his six children, he married Kristen M. McMain in the Salt Lake Temple. She now travels with him, supporting him in his callings and adding her insight and experience to the richness of his service. 
As a beloved leader in the Church, he has devotedly served the world through his expertise in religious as well as legal matters. In 2013 the Becket Fund awarded him the Canterbury Medal for his "courage in the defense of religious liberty." The young people of the Church have particularly felt his influence as he has boldly and frankly addressed the issues of a changing world alongside the unchanging doctrines of the gospel. 
In January of 2018 Dallin H. Oaks was called as a counselor in the First Presidency of the Church. President Dallin H. Oaks, as a special witness of Jesus Christ, has dedicated his life to the service of the Master. He says that the most important thing to him, simply put, is to find out what God wants from him and to do it. His boldness and devotion are felt in the many addresses he has given at BYU. He has led the university and the Church through periods of maturing, deepening, and refining. 
---
---