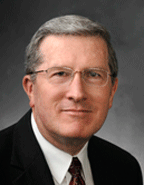 David A. Hunt
David A. Hunt began his career at BYU in 1980 as an assistant manager of Helaman Halls. In 1993 he was pro­moted to director of Housing Services, where he served until 1998, when he was named assistant administrative vice president for Student Auxiliary Services (SAS).
SAS oversees the BYU Bookstore, Dining Services, the Housing Services business office, Facilities Management, the Signature Card office, and the ID Center. It also coordinates BYU ser­vices for the MTC, runs the laundries, maintains Timp Lodge and Spring Haven, and receives and disperses all on‑campus deliveries (with the exception of Mail Services).
David Hunt served a mission to the Central America Mission from 1969 to 1971. He earned his BS in business management from BYU in 1977. He then became a manager at JC Penneys in Bountiful, Utah. In 1997 he received his MPA, also from BYU.
Brother Hunt has served as a bishop, as a counselor in four different bishoprics, and as a high councilor on two high councils. He enjoys writing and has written a children's story for each of his children.
He and Sharon are the parents of seven children, three of whom received degrees from BYU.
---
---