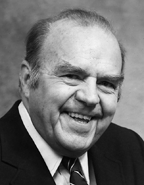 David H. Yarn Jr.
David H. Yarn spent over 40 years of his life at what he affectionately referred to as "the BYU." His contributions to BYU as a student, teacher, dean, and well-known public speaker extend far beyond the classroom. Those who were privileged to work with him noted and admired his scholarly knowledge, extensive service, and deep religious devotion.
Born in Atlanta, Georgia, in 1920, Brother Yarn was known for his warm, hospitable Southern mannerisms. As a young man, he attended Georgia Tech before serving a two-year mission for The Church of Jesus Christ of Latter-day Saints in the Western States Mission. He attended Brigham Young University upon his return and later explained that these two events—his mission and attending BYU—played an integral part in his decision to become a teacher. He discovered a joy and satisfaction that came from sharing ideas and helping other people learn as a missionary, and as a student he discovered a love for the academic association he shared with his peers. This came both from interactions in the classroom and from the Sunday evening firesides he regularly conducted in his dormitory living room.
In September of 1945, Brother Yarn met Marilyn Stevenson. They began dating and were sealed in the Salt Lake City Temple nine months later. After graduating, Brother Yarn taught three theology classes at BYU before leaving Provo to attend graduate school at Columbia University. He returned to BYU upon obtaining his master's degree, this time as an assistant professor of philosophy and theology. Within a year of teaching, Brother David Yarn became chairman of the Department of Theology and Religious Philosophy.
After serving as department chair for six years, Brother Yarn took a brief sabbatical to pursue a doctoral degree in philosophy and education from Columbia University. He then returned to BYU and was advanced to the position of associate professor and director of the Religion Department. During his tenure in this position, Brother Yarn felt the Religion Department was not regarded with the same respect as other departments, and he made it his personal mission to eliminate this discrepancy. After writing to the president of the university asking the department to be granted status as its own college, he was promoted to full professor and first dean of the new College of Religion.
Brother Yarn also served as an administrator at BYU and was a member of the Religious Studies Center advisory board. He was a member of Phi Kappa Phi, serving as president of the BYU division for one year. Brother Yarn was the general editor of the J. Reuben Clark Papers project at BYU and was one of the first recipients of the Karl G. Maeser Excellence in Teaching award. He was named Man of the Year by the BYU chapter of Blue Key.
Known for his ability to engage an audience, Brother Yarn gave devotional, forum, graduation, and convocation addresses during his time at BYU. He served as a bishop, as a member of the MIA and Sunday School general board, as a counselor in a stake presidency, and as a stake president. He was also asked to be a writer on the Melchizedek Priesthood manual committee and delivered a series of Sunday evening addresses for KSL radio in the Salt Lake City Tabernacle on behalf of the Church.
After retiring from teaching, Brother Yarn served as a sealer in the Provo Utah Temple and then as president of the Atlanta Georgia Temple. He wrote many articles and several books, the best-known of which were The Four Gospels as One and The Gospel, God, Man, and Truth. In 2012, he passed away of natural causes in his home in Provo, Utah. He and his wife were the parents of six daughters, grandparents of twenty-two grandchildren, and great-grandparents of twenty-eight great-grandchildren.
---
---