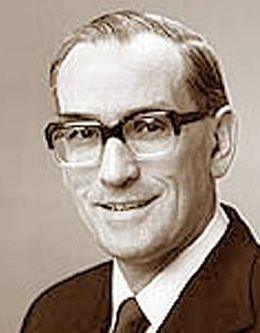 Derek A. Cuthbert
A pioneer for expansion of The Church of Jesus Christ of Latter-day Saints in England, Elder Derek A. Cuthbert was converted to the gospel when three young missionaries knocked on his door in 1950. His wife, Muriel, had family in the LDS Church, so she eagerly invited the missionaries in to see if they might know her cousin. Elder Cuthbert had been raised in the Church of England, and he and his wife had always been religious. They did not, however, have any interest in changing their religion. When the missionaries asked the couple if they could believe in a modern-day prophet, Muriel had to admit that she had questioned her minister about that very topic before. The missionaries began teaching the Cuthberts, and one of the elders even wrote in his journal later that day that he was certain the couple would be baptized in the next six months. Five months later, after gaining personal testimonies of the truthfulness of the Book of Mormon, Derek and Muriel Cuthbert joined the Church.
Elder Derek A. Cuthbert was born in Nottingham, England in 1926. He attended high school during World War II, and despite frequent air raid sirens and bombing drills, he found joy in playing sports and challenging himself academically. After graduating from high school, Elder Cuthbert married Muriel Mason, his childhood sweetheart. He then served in the Royal Air Force for three years, two of which were spent in India, Burma, and Hong Kong.
The couple's decision to join the Church was met with no small amount of opposition. Elder Cuthbert recalls being shunned by many neighbors, some of them even going so far as to cross the road rather than speak to him. The Cuthberts did not let others' decisions influence the way they behaved, however, and before long those same neighbors came to them asking for counsel and advice on their problems or for prayers for their sick children. When speaking of these experiences in his BYU address "The Futility of Fear," Elder Cuthbert said that "there is never any need to fear opposition, criticism, or persecution, for we know what will be the outcome." Many of the Cuthberts greatest blessings came from their membership in the Church, their temple sealing being no exception. When President David O. McKay came to England to dedicate the London Temple in 1978, the Cuthberts were the very first family to be sealed there.
A student of economics and law at the University of Nottingham, Elder Cuthbert began his career as a management trainee with the chemicals and plastics company British Celanese Limited. He eventually worked his way up the corporate ladder and became the financial manager for the factory. He attributes the opportunities made available to him at work to blessings from the Lord in accordance with his family's observance of the law of tithing. Elder Cuthbert's membership in the Church also helped him overcome his fear of taking responsibility, which immensely blessed him in the professional sphere. Elder Cuthbert had to overcome his trepidation with taking responsibility when, literally days after being baptized, he was called to lead the youth program in the Nottingham Branch. He knew that the Lord needed his help, and he became anxiously engaged in serving those around him.
Elder Cuthbert would go on to serve as the first British stake president, presiding over the Leicester and Birmingham England Stakes, and then as regional representative for the British Isles for five years. He presided over the Scotland Mission with his wife from 1975 to 1978. During this time, he helped to establish thirty-five new units of the Church in Scotland and Northern Ireland. Toward the end of his three years as mission president, Elder Cuthbert was called to serve as a member of the Quorum of the Seventy, where he was actively involved in building Church missions in Africa.
One of Elder Cuthbert's goals was to be able to share his testimony with Saints all over the world in their own language. He was dedicated to physical and mental improvement throughout his entire life, and this dedication was manifest as he learned the basics of several languages, including French, Japanese, Latin, Mandarin Chinese, and Afrikaans. Although he joined the Church during a time when it was not easy to be a Latter-day Saint in England, his unwavering devotion to the gospel sets an example for all of the power of true discipleship.
---
---