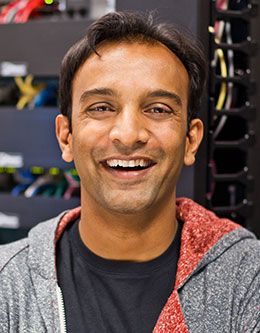 DJ Patil
Dhanurjay "DJ" Patil was born August 3, 1974. He lived in Utah as a child while his father taught at the University of Utah, and his family later settled in Cupertino, California, where his academic career got off to a rough start. He often got into trouble at school and graduated at the bottom of his class, yet despite his lack of interest in the classroom, his bright and innovative mind was attracted to the fields of mathematics and engineering. He decided to attend De Anza College. There, on the first day of calculus class, he found that he understood nothing of the lecture. He experienced a change of heart and mind and decided to get serious about school so that he could understand the things he was so passionate about. That moment has proven beneficial not only to him, but to his entire country.
As his natural intellect was compounded by hard work, DJ Patil graduated with a BA in mathematics from the University of California, San Diego. He went on to earn a PhD in applied mathematics from the University of Maryland, College Park, where he later served as a faculty member. Dr. Patil is the author of Building Data Science Teams and Data Jujitsu—The Art of Turning Data into Product. He is largely responsible for the creation of the term "data science" and many aspects of the field connected to it.
Dr. DJ Patil has worked at companies such as LinkedIn, Skype, PayPal, and eBay. In 2004 he began his service in the public sector, working for the U.S. Department of Defense. In his role in the Advanced Systems and Concepts Office, he led the Threat Anticipation Project, which aimed to use social network analysis to anticipate threats of terrorism, weapons of mass destruction, failed states, and human rights violations.
From 2015 to 2017 Dr. DJ Patil served as the first U.S. Chief Data Scientist under President Barack Obama. His mission statement was to "responsibly unleash the power of data to benefit all Americans." Among his department's initiatives were the Police Data Initiative, the Data-Driven Justice Initiative, and the Precision Medicine Initiative. These databases aimed to consolidate information that would help lead to solutions in the fields of law enforcement, the judicial system, and healthcare.
Dr. DJ Patil's expertise and down-to-earth passion for the power of data inspired BYU students during his forum address in February of 2018, in which he charged the coming generation to ponder their responsibility to use advancing technology to better the world around them.
---
---