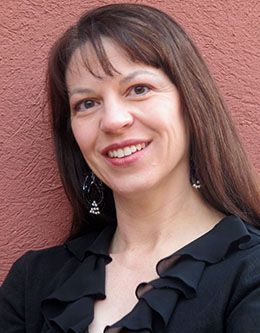 Diane Thueson Reich
Diane Thueson Reich, a professor of vocal and opera literature and division coordinator for classical voice at Brigham Young University, has used her talents in many capacities to grow and to inspire others.
A gifted and trained soprano, Diane Reich earned master's and doctoral degrees from Indiana University, one of the top music schools in the country. She starred in many operas, including Faust, The Rake's Progress, Arabella, Falstaff, The Ghosts of Versailles, La Bohème, Die Zauberflöte, The Merry Widow, and The Tales of Hoffman. She also created the role of Rosamond in the world premiere of Michael Valenti's opera Beau Nash, performing with the Portland Chamber Orchestra.
Professor Reich has been a guest artist with Icicle Creek Music Festival in Leavenworth, Washington, as well as the Third Angle Ensemble in Portland, Oregon. She has appeared with the Yakima and Walla Walla Symphonies, the Indianapolis Symphony, the Utah Chamber Orchestra, Indiana University Philharmonic, and Indiana State and Utah State University orchestras, and also soloed in the northwest premiere of George Crumb's Star Child in Seattle's Benaroya Hall. She was a featured soloist with Vietnam National Opera and Ballet Company in Hanoi, a guest soloist with the St. Petersburg Chamber Philharmonic in Russia, has sung several concerts throughout Vietnam and China, and performed a concert and taught master classes at the Conservatorio Statale di Musica in Pescara, Italy.
Diane has been a multiple Metropolitan Opera Audition winner in both the Utah and Indiana Districts and has won first place in the Vera Scammon International S.O.S. Voice Competition. Her contributions to music, however, exceede her performances. As an academic, her research has made her a leading authority on the work of the American composer Henry Mollicone. As a teacher, she has helped students on to prestigious graduate programs at Indiana University, the University of Houston, Arizona State University, and the University of Missouri–Kansas City, as well as training programs throughout the world.
Diane Reich knows how to wear many hats at once. As a PhD student, she gave birth to her two children, worked multiple jobs, and sang on the big stage. She is a devoted wife and serves faithfully in her Church callings, yet has found that the ability to grow has more to do with internal attitudes than with external responsibilities and titles. In her BYU devotional, she shares the important lessons she has learned from a lifetime of daunting growth.
---
---