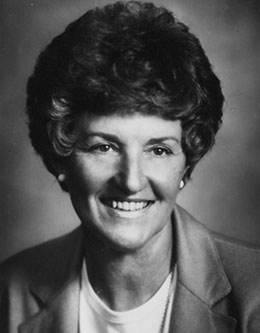 Elaine A. Cannon
Elaine A. Cannon was born in April of 1922. Raised in Salt Lake City, Utah, Sister Cannon grew up alongside Capitol Hill. It was in her childhood that she developed her spirit of giving and her love for literature. She would spend her summers outside reading in the grass, taking in the words of her favorite authors and poets alike.
Later in her life, Sister Cannon became the eighth Young Women's General President of the Church of Jesus Christ of Latter-day Saints. She served in this position from 1978 to 1984. Her time in this calling provided her with countless opportunities to selflessly serve the youth in the Church and influence them for good. Having experienced her own trials in life, Sister Cannon lovingly taught the young women of the church to persevere and trust their Heavenly Father when times were tough. While fulfilling this calling, she was also a member of both the National and International Council of Women.
Sister Cannon was a graduate of the University of Utah. In college, she was a writer for the Salt Lake Tribune. After she graduated, Sister Cannon edited for Deseret News. Her talents for writing, editing, and all communication served her well in life, including times when she was invited to speak at Brigham Young University. Her inspiring devotional addresses invite those who read them to develop an attitude of selflessness and reflect on how they can make the people around them happy. She served as a Stake Relief Society president and a temple worker for many years.
She and her husband were the parents of six children. She fulfilled the roles of mother, wife, and grandmother graciously. Sister Cannon passed away in 2003 after a battle with cancer. Her incredible life stands as a prime example to all of the power of using your spiritual gifts and talents righteously.
---
---