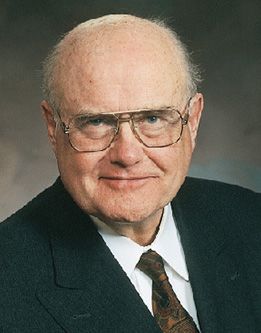 F. Enzio Busche
Elder F. Enzio Busche was born in Dortmund, Germany in 1930. When he was only nine years old, the destruction of World War II reached his hometown. After the first bombs were dropped on Dortmund, his family fled to eastern and then southern Germany. At the age of ten, Elder Busche was required by law to join the Hitler Youth organization. When he turned fourteen, he was drafted, along with all eligible boys of his age, into the German Army.
Elder Busche only fought for a few short weeks before he was captured and taken to a prison camp in America. Instead of killing him, his captors eventually released him and sent him home to his family; they were reunited in Dortmund. After the war, he became disillusioned with those who claimed to have answers to life's problems. Those who once preached that Hitler knew how to solve Germany's problems now claimed they had never said anything of the sort. This confusing behavior left Elder Busche confused and disappointed.
Eventually, he married his childhood friend Jutta. He studied different religions, but could not seem to settle on anything that made sense to him. When he had a near-death experience, he realized he needed to be cleansed from sin in order to prepare for the next life. With this new knowledge, he began his search anew. He prayed for months. One day, a pair of missionaries from the Church of Jesus Christ of Latter-day Saints knocked on his door.
Two years later, he was baptized a member of the church. His wife followed suit shortly after. Later in his life, he was called to be a member of the First Quorum of the Seventy. His life has been filled with outstanding Church service and through his devotionals, he shares some of his incredible wisdom.
---
---