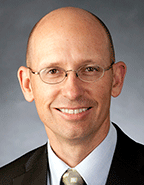 Gary C. Barton
Garold C. Barton, Jr. (Gary), recently completed service as an associate dean in the College of Fine Arts and Communications. He has also served in a variety of other capacities within his department, his college, and the university since he was hired as a member of the BYU faculty in 1994.
Professor Barton graduated from BYU in 1989 with a BFA in printmaking, and he received his master's of fine arts degree in 1994 from The Ohio State University, where he was a recipient of a university fellowship.
As an artist, Barton works primarily with two-dimensional methods including printmaking, painting, and mixed media. He has shown his work extensively in national and international exhibitions and has received numerous grants and awards for his work, including the Utah Arts Council Visual Arts Fellowship and the Award for Excellence in Creative Works from the College of Fine Arts and Communications.
While the focus of his teaching is printmaking, he has taught more than 40 different courses for the 2-D studio area, which includes the disciplines of painting, drawing, printmaking, and new genre. In 2008 he was a recipient of the Joseph E. White Teaching and Learning Fellowship.
Professor Barton and his wife, Jennifer, teach the marriage and family relations class in their ward and are the parents of three children.
---
---