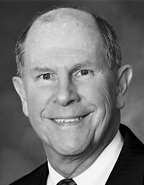 Gene R. Cook
Gene R. Cook served as a member of the First Quorum of the Seventy, as well as the assistant executive director of the Missionary Department.
Elder Cook has held various Church positions including service as an area president of the North America Southeast, North America West (California/Hawaii), and Mexico/Central America Areas; counselor in several area presidencies; area executive administrator to the Chile and Andes Areas; president of the Uruguay-Paraguay Mission; and a regional representative in Mexico, Argentina, the United States, and Canada. He served as executive secretary to the First Council of the Seventy for three years before being named to the council in 1975.
The author of a number of books and tapes, Elder Cook holds a BS in business management and an MBA from Arizona State University. He was employed as an insurance consultant for Metropolitan Life Insurance and as a consultant for general management in other companies. He earned a Chartered Life Underwriter designation (CLU) and was also a member of the equivalent of the Million Dollar Round Table.
Elder Cook is married to Janelle Schlink, and they have eight children.
Show More