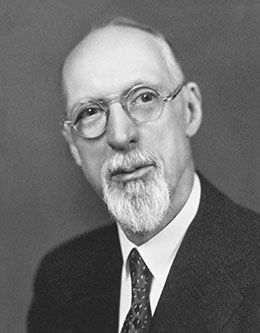 George Albert Smith
President George Albert Smith lead a life full of selfless, devoted service to God and his fellowmen. Despite having many difficulties with his health, he constantly put the needs of others above his own. He exemplified Christlike love in all that he did.
Born in Salt Lake City, Utah, in 1870, George Albert Smith knew a great love and respect for his parents. His father was called to serve a mission in Europe when President Smith was only five years old. President Smith was one of 19 children, so it was no small task for his mother to care for the family with her husband away. He has fondly recalled the sacrifices that his parents made to raise their family in the gospel. His father's missionary service and his mother's unshakeable faith that the Lord would provide a way for the family laid an irreplaceable foundation for his own faith to develop.
President Smith was no stranger to hard work. When his father was called back to Europe to serve as the mission president, President Smith began working at a manufacturing plant. He was only 13 years old. Later, at the age of 18, he was hired by a railway surveying party. He was very musically gifted and was known to host impromptu concerts on business trips. His favorite instruments to play were the banjo, guitar, and harmonica.
During his time with the railway, the intense glare of the sun on the desert sands damaged President's Smiths eyes permanently. Though he was not known to complain, he struggled to read and experienced daily pain for the remainder of his life.
In 1891, President Smith was called to serve a four-month mission with the youth of the Church to Southern Utah. As a missionary, he worked with a companion to set up youth programs and invited those he worked with to live according to the standards of the Church.
After his four months of service, President Smith returned home and married Lucy Woodruff, his childhood sweetheart. They were married on May 25, 1892, in the Manti Utah Temple. They had two daughters and one son. During their engagement, President Smith had received word that he would be called to serve a second mission. Less than a month after their wedding, he packed his bags, said a difficult goodbye to his wife, and left for the southern United States. The couple was thrilled when, four months later, Lucy was asked to serve with her husband in the mission office.
President Smith later served as president of the European mission with his wife. They left for Europe in 1919 and were met by a continent and people recovering from the damages of World War I. One of the many byproducts of the war was that the number of missionaries in Europe was extremely low, so President Smith made it a personal mission to increase the number of missionaries serving in Europe. By the end of his service in 1921, the number of missionaries in Europe had dramatically increased.
The year was 1945 when President Smith received word that President Heber J. Grant, the then-prophet of The Church of Jesus Christ of Latter-day Saints, had passed away. President Smith, who had been serving as a member of the Quorum of the Twelve since 1903, was on a train in the eastern United States. Upon hearing the news, he immediately changed his travel itinerary to return to Salt Lake City. Just days later he was set apart as the next president of the Church. Europe was once again recovering from the end of a war. In the aftermath of World War II, President Smith saw that the Church welfare system would be an irreplaceable resource to provide help. He once again set a focus on increasing missionary service, knowing that there was great spiritual need among the people suffering from the destruction of the war.
George Albert Smith served as president of The Church of Jesus Christ of Latter-day Saints for nearly six years. During this time, he placed emphasis on the importance of service and the duty of the Latter-day Saints to share the blessings of the gospel with those around them. Though he suffered from chronic back and stomach pain, fatigue, and heart trouble in addition to his eye problems, he did not allow his ailments to keep him from spreading the light of the gospel through loving service. He lived a rich 81 years and passed away on his birthday in 1951 with his children at his bedside.
---
---