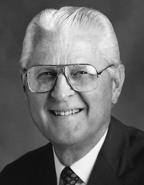 H. Burke Peterson
Elder H. Burke Peterson was sustained in 1972 as first coun­selor in the Presiding Bishopric, where he served for 13 years. In 1985 he was sustained to the First Quorum of the Seventy and called as president of the Jordan River Temple. He was later area president in two United States areas until receiving emeritus sta­tus in 1993.
Prior to his call as a General Authority he had a career in civil engineering and was a partner in a company in Arizona. Elder Peterson has a bachelor of science degree from the University of Arizona and a master of science degree from Utah State University in civil engi­neering. During World War II he served in the United States Navy.
Elder Peterson passed away in April of 2013.  He and his wife, Brookie Cardon, had five daugh­ters, 24 grandchildren.
Show More