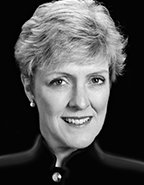 Heidi S. Swinton
Heidi S. Swinton is an award-winning author and screenwriter of America's Choir: A Portrait of the Mormon Tabernacle Choir; Sacred Stone: Temple on the Mississippi; American Prophet: The Story of Joseph Smith; and Trail of Hope: The Story of the Mormon Trail. For her writing the American Association of Independent Booksellers awarded her first place in the biography category for 1999, and Deseret Book presented her with the Excellence in Writing Award for 1999.
Sister Swinton served as a member of the Relief Society General Board and as vice chair of This Is the Place Heritage Park. She has been a mem­ber of the LDS Church Curriculum Writing Committee for Teachings of the Presidents of the Church, has taught Gospel Doctrine in her ward, and has been a ward Primary and Young Women president. Sister Swinton also writes messages for the Tabernacle Choir's Music and the Spoken Word.
Heidi S. Swinton is married to Elder Jeffrey C. Swinton, an emeritus member of the Fifth Quorum of Seventy. She and Elder Swinton have five sons, one of whom is deceased.
Show More
Talks by Heidi S. Swinton