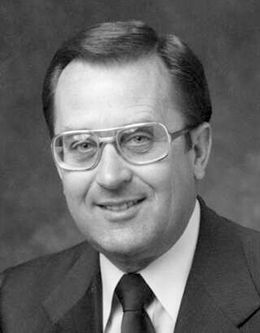 Jack H. Goaslind
Jack H. Goaslind was born on April 18, 1928 in Salt Lake City, Utah. His parents, Jack and Anita Jane Goaslind, were important role models throughout his life, and from a young age he shared a special bond with them. As a young man, Elder  Goaslind served as a missionary in the Western Canadian Mission. He was an avid skier and gave up an opportunity to train for the 1948 Winter Olympics with the United States ski team in favor of serving a mission. He continued to ski recreationally throughout his life, but this early decision set the stage for a life of dedication to the Lord.
After graduating from the University of Utah, Elder  Goaslind worked for Affiliated Metals, Inc., eventually becoming vice president of the company. He was kept busy with callings in the Church, serving as a bishop, a stake president, and a regional representative before being called in 1972 to the General Young Men Presidency. When this presidency was reorganized two years later, Goaslind was called to preside over the Arizona Tempe Mission.
In 1978, Elder Goaslind was called to be a General Authority Seventy. This calling brought many opportunities to serve; his responsibilities included being a member of the General Sunday School Presidency for two years, a member of the Presidency of the Seventy for two years, and the president of the British Isles–Africa Area, where he helped the Church in Ghana navigate a government ban on its meetings.
From 1990 to 1998, Elder Goaslind served as the 17th General President of the Young Men organization. Because of a lifelong passion of working with young people in ward, stake, and regional callings, Elder Goaslind was well-prepared to lead the youth of the Church. While serving as the Young Men President, Goaslind was called back to the Presidency of the Seventy. He served there until he was granted emeritus status in 1998. He then served from 2000 to 2003 as the president of the Manti Utah Temple.
Elder Goaslind's service was also noticed by civic and community organizations. He was awarded the Silver Buffalo Award by the Boy Scouts of America to recognize his effort in integrating the Scouting and Young Men programs. He was also selected by the Royal House of Braganza to be inducted into the Order of Saint Michael of the Wing in honor of his humanitarian efforts in the former Portuguese colony of São Tomé and Príncipe while serving as president of the British Isles–Africa area.
Elder Goaslind passed away April 27, 2011 in Salt Lake City. He was married to Gwen Bradford, and the couple had six children. His BYU addresses focus on fundamental elements of the gospel of Jesus Christ, such as missionary work and developing the Christlike attributes of honesty, purity, humility, obedience, and charity.
---
---