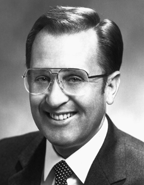 Jack H. Goaslind
Elder Jack H Goaslind was called as a member of the First Quorum of the Seventy in 1978. He served as a member of the presidency of the Seventy, where his assignments are executive director of the Curriculum Department, Young Men general president, and chairman of the General Church Scouting Committee.
Elder Goaslind served in many Church leadership positions, including two calls as a regional representative and his first call to full-time service as president of the Arizona Tempe Mission. At the time of his mission presidency call, he was vice president of Affiliated Metals, Inc.
He received the Honorary Master M-Men Award, presented by President Harold B. Lee. He received the Silver Beaver Award in 1994 and the Silver Buffalo in 1995 for his services to the Boy Scouts of America.
A Salt Lake native, Elder Goaslind graduated with a bachelor of science degree from the University of Utah. Later he served two years as an Air Force officer. He married Gwen Caroline Bradford in the Salt Lake Temple in 1953.
Show More
Talks by Jack H. Goaslind