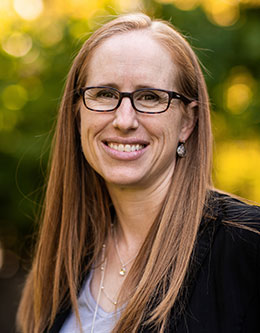 Jamie L. Jensen
As a determined and faith-filled mother, Dr. Jamie L. Jensen completed her graduate studies while she bore children and suffered through severe health trials. In her October 2020 devotional address, Dr. Jensen said that her and her sons' recovery from these health problems was a miracle, one that came about through both faith and science.
Dr. Jensen earned a BS in animal science and an MS in zoology with a special focus in developmental biology from BYU. She then went on to receive her PhD in biological science education from Arizona State University in 2008. Dr. Jensen worked at Utah Valley State College (Now UVU), Riosalado Community College, and Chandler-Gilbert Community College, and then began working as an associate professor in the College of Life Sciences at BYU in 2010.
Dr. Jensen teaches a wide variety of beginning to advanced biology classes at BYU, and her research focuses on developing and assessing undergraduate biology curricula to help students think more deeply and build bridges between science and religion. Through her dedication to teaching and to her students, she earned the Outstanding Teaching Award in the College of Life Sciences. Over the years, Dr. Jensen has published journal articles which give important pedagogical insights that reveal how much she cares about students.
In addition to researching how to improve teaching and encouraging evolution education through the RecoEvo (Reconciling Evolution) Research Group, Dr. Jensen takes joy  in spending time with her husband and four sons.
---
---