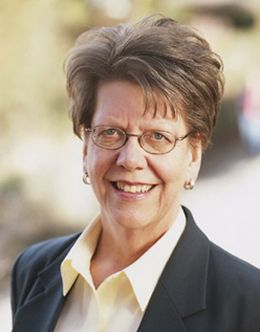 Kaye Terry Hanson
Kaye Terry Hanson served in a number of positions at BYU, including as a faculty member in the Marriott School of Management, where she taught communication to graduate stu­dents and religion and business together in the undergraduate core. She served nearly three years as the associate director of BYU's Jerusalem Center in Jerusalem, Israel, and also served as cochair of the Faculty Advisory Council on campus.
Professor Hanson graduated from BYU with a BA in English, an MA in theater and German, and a PhD in theater history and German. She completed a mission to Germany and has served as gospel doctrine teacher, Young Women president, Primary president, and Relief Society counselor. She also served on the Young Women General Board.
Professor Hanson coedited Finding God at BYU, a book about remarkable stories of emerging faith in faculty and students. She has also written a communication book called Say It Right. Her favorite pas­time is writing and binding books for her grandchildren.
---
---