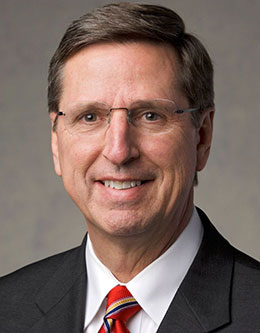 Kevin W. Pearson
General Authority Seventy
Elder Kevin W. Pearson was born in Salt Lake City, Utah, on April 10, 1957. He served as a full-time missionary in the Finland, Helsinki Mission. After returning, he married June Langeland in 1980, and they are now the parents of six children. Elder Pearson earned a bachelor's degree in finance from the University of Utah and his master's in business administration in corporate finance from Harvard Business School.
Elder Pearson has served in many notable callings within the Church, including a counselor in the Europe East Area, president of the North America Southwest Area, president of the North America West Area, and an assistant executive director of the Missionary and Family History department.
Elder Pearson was the chief executive officer at Ingenix, Inc. when he was called to be mission president of the Washington Tacoma Mission. During this service, he was asked to become a General Authority Seventy. He accepted the new calling and was sustained on April 5, 2008 and is currently serving at Church headquarters as the president of the Utah Area.
---
---