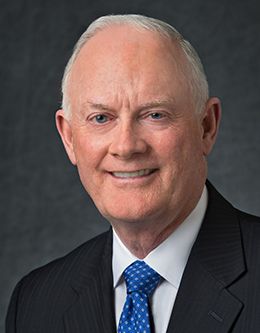 Kim B. Clark
of the Seventy
A prestigious economist, professor, administrator, and a General Authority for The Church of Jesus Christ of Latter-day Saints, Kim B. Clark sets a powerful example of putting service to God first. He knows the importance of spiritual and secular education for individuals as well as families, communities, nations, and the Church.
Kim Bryce Clark was born March 20, 1949 in Salt Lake City, Utah, and raised in Spokane, Washington. He began his education at Harvard University, matriculating to serve a mission in Germany. When he returned, he spent some time at Brigham Young University. There he met Sue Hunt in a family home evening group, and they were married in 1971. He says he is sure that she is the reason he needed to come to BYU: "She is the love of my life, and I came here to find her." They have now been married many happy years and are the parents of seven children.
Returning to Boston, Kim. B. Clark earned a bachelor's degree in 1974, a master's in 1977, and a doctorate in 1978, all in economics from Harvard. He then joined the faculty of the Harvard business school, where he worked for 28 years. He was named the George F. Baker Professor of Business Administration and became the dean of the Harvard Business School in 1995. His research focused on the integration of technology and competition in industry evolution, especially in the computer industry. He wrote several articles for the Harvard Business Review and other academic journals, a few of which he co-authored with BYU­–Hawaii President Steven C. Wheelwright.
Kim B. Clark complemented his work with many hours of service in the Church as a bishop, scoutmaster, elder's quorum president, and Sunday School teacher. In August of 2005, he left Harvard and answered the call to preside at Brigham Young University–Idaho. After being the president of BYU–I for ten years, including seven years of simultaneous service as an Area President for the Idaho Area, he was sustained a member of the First Quorum of Seventy in April of 2015. In August of that year, Elder Kim B. Clark was designated the Commissioner of Church Education.
---
---