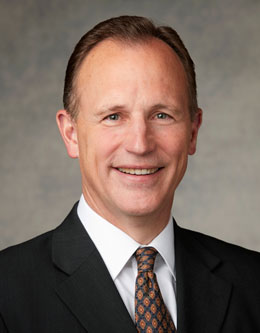 Kyle S. McKay
In March of 2018, Kyle S. McKay was sustained as a General Authority Seventy of The Church of Jesus Christ of Latter-day Saints. Previous to that call, he was serving as a member of the Fifth Quorum of the Seventy in the Utah North Area. As a young man, Elder McKay served a mission in the Japan Kobe Mission.
Elder McKay is originally from the Midwest—he was born in Chicago in 1960—but he has since lived and practiced law in both Utah and Oregon. He also spent time living with his grandparents in Montana as a child, which is where he had one of his most formative testimony-building experiences. In fact, the pew that he sat on as an eight-year-old while the Spirit testified to him of the truthfulness of the gospel sits in his home today.1
Elder McKay got his bachelor's degree in English from Brigham Young University in 1984. That same year he married Jennifer Stone, with whom he would eventually have nine children. In 1985, Elder McKay received his juris doctor degree, also from BYU.
Family is a source of happiness and fulfilment for him and his wife, and balancing his priorities—family, riding horses in the mountains, and the gospel—has been an important lifelong effort for Elder McKay. He said, "God promises joy and rejoicing in our posterity. He keeps His promises."2 He and his wife reside in Kaysville, Utah, where they raised their nine children.
[1] Aubrey Eyre, "New General Authority Seventy Elder Kyle S. McKay finds God in the Lord's mountains," May 2018.
---
---