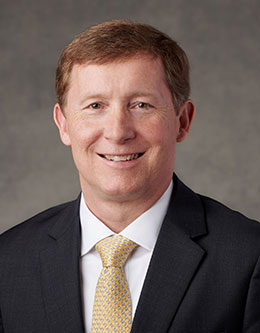 L. Todd Budge
On April 6, 2019, at 59 years of age, L. Todd Budge was sustained as a General Authority Seventy of The Church of Jesus Christ of Latter-day Saints. Then on October 3, 2020, he was called as Second Counselor in the Presiding Bishopric. Prior to which he served as First Counselor in the Asia North Area Presidency.
Bishop Budge is a BYU alumnus, and he earned his bachelor of arts degree in economics in 1984. After graduation, he worked for a number of big-name companies; he was employed at Bain & Company in Japan, Citibank N.A., and GE Capital in both Atlanta and Japan. In 2003 he became president and chief executive officer of Tokyo Star Bank Limited—the first foreigner to become president of a Japanese bank. From 2008 until 2011, when he retired, he served as chairman of the board. During this time, he also served as a member of the board of directors for Hawaiian Airlines.
Though Bishop Budge worked in Japan, his first tie to the island country came from his service in the Japan Fukuoka mission as a missionary. He later got the opportunity to return as a missionary once more, though this time he would be going with his eternal companion and be presiding over the Japan Tokyo mission. Bishop Budge's business associations in Japan proved to be a miraculous help to the Church there. Though he had earlier considered a change of career, Bishop Budge followed the advice of a mentor who had told him, "We need people with integrity in business." As a result of Bishop Budge's previous business experiences in Japan, he was able to open many doors for missionary work in the country.
During their freshman year at BYU in 1981, Bishop Budge married Lori Capener Budge. They were sealed in the Logan Utah temple and became the parents of six children. Between his missions and his children's, Bishop Budge's family has served in nearly every mission in Japan.
---
---