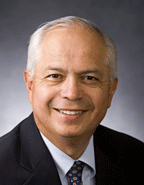 Larry EchoHawk
Larry J. Echo Hawk (born August 2, 1948) is an attorney, legal scholar and politician. In 2012 he was called to the first quorum of the seventy. On May 20, 2009, Echo Hawk joined the administration of President Barack Obama as the United States Assistant Secretary of the Interior for Indian Affairs. He previously served as the elected Attorney General of Idaho from 1991 to 1995, being the first Native American elected to that position.He also served two terms in the State House of Idaho.
Larry EchoHawk also served as a professor in BYU's J. Reuben Clark Law School. Born in Cody, Wyoming, and raised in Farmington, New Mexico, he attended BYU on a football scholarship, gradu­ating in 1970. He then earned a JD from the University of Utah and stud­ied at Stanford University's Graduate School of Business.
He and his wife, Terry, have six children.  He has served as a bishop twice and as stake President of a BYU stake.
Show More