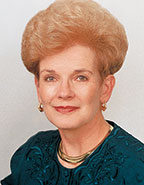 Marilyn S. Bateman
Marilyn S. Bateman has often said that her life has been "an incredible adventure." She has been described by others as a woman of "serene stability" and "uncommon common sense"—attributes that have greatly blessed her and her family.
Sister Bateman was born in Logan, Utah, and attended high school in American Fork, Utah. There she met Merrill J. Bateman, and the two fell for one another. She married her sweetheart in 1959, and the Batemans now have seven children and many grandchildren.
A large family and many responsibilities did not stop Marilyn Bateman from seeking out education and contributing to her community. She attended Brigham Young University, the University of Utah, and LDS Business College. She served as a PTA president, curriculum committee member for the Provo, Utah, school district, and a board member for the Utah County Symphony Guild. Additionally, she volunteered her time and talents to The Church of Jesus Christ of Latter-day Saints as a district missionary, a teacher and leader in ward auxiliary organizations, stake Young Women president, and a counselor in stake Young Women and Relief Society presidencies.
The greatest service rendered by Sister Bateman, however, was for her family as a dedicated wife and mother. Her faith, warmth, and consistency enabled her to create a happy home in England, Japan, West Africa, and many places within the United States—wherever her husband's career or Church service took them.
While her husband was the president of Brigham Young University, Sister Bateman took many opportunities to address the students. Sharing her tender testimony and sensitivity to spiritual light, she provided many gospel insights that are valuable to young adults and to anyone seeking self-discovery and life direction.
---
---