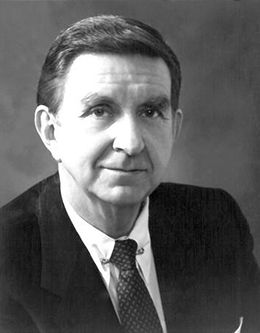 Marion D. Hanks
Perhaps one of the greatest compliments paid to Marion D. Hanks was the statement by one of his children that "the person before him always had his full devotion." His humanitarian work, service in the Church, and military service constituted only some of the visible evidence of his sense of duty and compassion.
Marion Duff Hanks was born on October 13, 1921, in Salt Lake City, Utah. His father passed away when Marion, who went by "Duff," was only two years old; his widowed mother raised him and his six older brothers and sisters largely on her own. Marion was an active and intelligent young man from the beginning. He won the Utah State Marble Championship as a boy, attended West High School as a teenager, and began his young adult life with a scholarship to play basketball at the University of Utah; however, he declined the scholarship in order to serve a mission in the Northern States.
When his missionary service was cut short by World War II, Marion D. Hanks served his country as a submarine chaser in the United States Navy. In many ways, this became a continuation, rather than an interruption, of his mission. Hanks was a group leader of six hundred Latter-day Saint servicemen, then was appointed acting chaplain for a mission on which he was the only Latter-day Saint. In both capacities, he conducted meetings and helped others to strengthen their faith amid the struggles of war.
While serving in the navy, Elder Hanks met Maxine Christensen, who was living in Hawaii with her parents. They began a lengthy courtship which continued after Marion finished his military service and returned to the mainland to begin school. Though he did not play basketball for the university, he did continue to play; in 1947 his ward basketball team won the all-Church championship. He earned a juris doctor from the University of Utah in 1948 and one year later, after four years of dating, he and Maxine were married in the Laie Hawaii Temple. Together they raised five children, four daughters and one son.
Upon graduation Marion D. Hanks taught seminary, was principal of West High School, and taught at the Institute of Religion at the University of Utah. He held numerous Church callings, including president of the British Mission. His teaching ability and love for youth helped him to have a profound influence on the missionaries he led, which included Elder Jeffrey R. Holland and Elder Quentin L. Cook.
Elder Marion D. Hanks served twice in the Presidency of the Seventy and as the assistant to the Quorum of the Twelve from 1968 to 1976. For much of his long period of service as a general authority seventy, he was the military relations representative for the Church. He took his responsibility for those in the military very seriously, even flying into hot combat zones during the Vietnam War to visit Latter-day Saint servicemen, whose parents he then personally wrote. He also presided over the Salt Lake Temple from 1982 to 1985. He was granted emeritus status in 1992 and a year later was awarded an honorary doctorate of Christian service from BYU.
Elder Hanks devoted his life to the service of others. Active in Scouting, he served on the National Executive Board and International Committee and received the Silver Buffalo Award for his service to youth. He became the chairman of an alliance group which supported a community service program for villages in Mali, West Africa. He also chaired the International Enterprise Development Foundation to help people in the Philippines and other third-world countries establish small businesses. For his exemplary dedication to humanitarian work, he received BYU's David M. Kennedy Public Service Award and SVU's Leader-Servant Award. He passed away on August 5, 2011.
Elder Marion D. Hanks spoke often at Brigham Young University. Among other topics, he frequently focused on the injunction of the Savior to help the poor and needy. He shared how his experiences with refugees and others in need taught him that in serving others, we serve God.
---
---