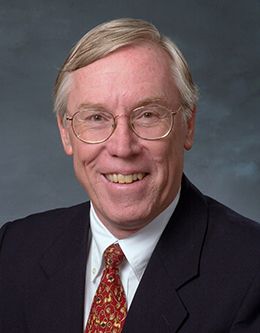 Mark A. Peterson
Dr. Mark A. Peterson earned his bachelor of arts degree in Asian stud­ies and anthropology from BYU in 1971. In 1973 he earned his master's degree in East Asian regional stud­ies from Harvard University and his doctorate in East Asian languages and civilization, also from Harvard, in 1987. He joined the BYU faculty in 1983.
Professor Peterson directed under­graduate programs for BYU's David M. Kennedy Center for International Studies from 1996 to 1998 and coor­dinated the Asian Studies Program from 1992 until 1996. He was execu­tive director of the Korean-American Educational (Fulbright) Commission in Seoul, Korea, from 1978 to 1983.
He is a founding member and the first vice president of the Association for Korean Language Education, a founding member of the American Association of Korean Teachers, and a lifetime member of the Royal Asiatic Society—Korea Branch, which he has served as a board member and vice president. He was also elected chairman of the Korean Studies Committee, a national office.
Dr. Peterson is the author of numerous books, articles, and jour­nal publications. He is the subject of a documentary film about his study abroad program in Korea and has been a guest lecturer on Asian/Korean subjects at universities and professional associations.
Brother Peterson has served the Church as president of the Korea Pusan Mission, as bishop of the BYU Asian Ward, and as bishop of his home ward. He and his wife, Randy Snider, are the parents of two children.
---
---