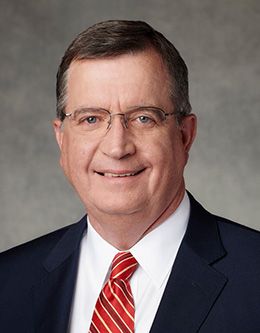 Mark L. Pace
When he was 12 years old, Brother Mark L. Pace's mother asked him if he had learned for himself that the Church is true. Her straightforward question prompted him to gain his own testimony at a young age. This testimony is something that he has treasured and nourished throughout his lifetime. 
Brother Pace was born in Buenos Aires, Argentina, while his father presided over the Argentine Mission. He is the fourth of ten children and the first of several Pace children to be born in Argentina. Upon completion of his father's calling, the Pace family moved to Holladay, Utah. It was there that Brother Pace would meet his wife, Anne Marie Langeland, while they were both in the second grade. 
Brother and Sister Pace were not close friends in elementary or middle school, but in high school they connected at a seminary dance. The couple began to spend time together, but they were separated after high school graduation as Brother Pace left to serve a mission in Spain and Sister Pace moved to Norway to accompany her parents on a mission assignment. They kept in touch by writing letters and continued dating once they both returned home. They were married in the Salt Lake Temple in 1978 and are the parents of seven children. 
Brother Pace graduated from the University of Utah with a bachelor's degree in economics. He then went to graduate school at Harvard, where he earned his master of business administration. He worked as a commercial real estate agent for the Boyer Company, but took a three-year break from his professional career in 2015 when he was called to preside over the Spain Barcelona Mission. After completing his mission, he returned to real estate development with the Gardner Company. 
In 2019, Brother Pace was called to serve as Sunday School General President for The Church of Jesus Christ of Latter-day Saints. His previous callings included Area Seventy, scoutmaster, elder's quorum president, and bishop. 
---
---