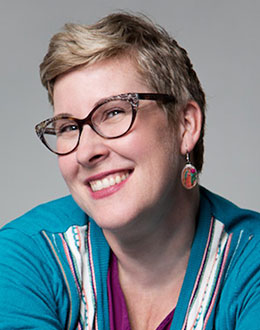 Megan Sanborn Jones
Megan Sanborn Jones is the chair of the Department of Theater and Media Arts at BYU. She is an author and editor and is an active member of the American Society of Theatre Researchers, the Association of Theatre in Higher Education, the American Theatre and Drama Society and the Mormon History Association.
Her work has been published in the publications Theatre Journal, Theatre History Studies, Theatre Topics and Ecumenica. Her first book, "Performing American Identity in Anti-Mormon Melodrama" from Routledge Press, won the Mormon History Association Smith-Pettit Best First Book Award (2010) and her second book, "Contemporary Mormon Pageantry: Seeking After Our Dead" from the University of Michigan Press, was published in October 2018. She is currently working on an essay about representations of Jesus Christ as a character in twenty-first-century musicals and on a detailed history of the Hill Cumorah Pageant.
Sanborn Jones is also a director and choreographer whose credits at BYU include "Crazy for You," "Arabian Nights," Young Company's "Twelfth Night," "Princess Academy" and "Much Ado About Nothing." Megan and her husband, Dr. Glen Jones, are the happy parents of two teenagers.
---
---