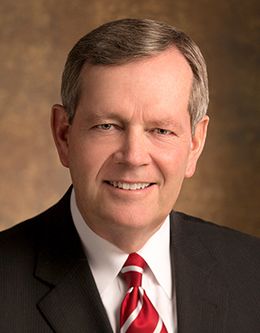 Michael O. Leavitt
Michael Okerlund Leavitt was born February 11, 1951 in Cedar City, Utah. A descendent of Massachusetts puritan pilgrims and Mormon pioneers, he inherited and fostered a love of his home state and country that gave impetus to a lifetime of service.
After graduating with a degree in business and economics from Southern Utah University, Michael O. Leavitt joined the Leavitt Group, which had been founded by his father. He worked hard and eventually became the regional insurance company's president and CEO. He was subsequently appointed to the board of directors of Utah Power and Light, to the boards of other prominent companies, and as a member of the Utah State Board of Regents. In that capacity, he oversaw the state's nine public colleges and universities. He also spent four years as chair of the board of trustees at Southern Utah University, his alma mater.
From 1993 to 2003, constituting three consecutive terms, Michael O. Leavitt served as the 14th governor of Utah, making him the longest-serving governor in the United States. As governor, some of his most notable achievements included helping to found the Western Governors University in 1997, which was one of the nation's first all-online schools. Believing in the power of technology, he also helped state web pages become some of the most user-friendly of their time. He reformed healthcare in the state, oversaw a period of economic expansion, and aided in the hosting of the 2002 Winter Olympics. Under his leadership, Utah was recognized multiple times for the success of the state's management. Governor Leavitt was also personally recognized for his ability to overcome difficulties and differences in solving bipartisan problems. He served as chair and member of multiple governor's associations.
In 2003, Michael O. Leavitt resigned as governor in order to take a position under President George W. Bush as the administrator of the Environmental Protection Agency. While leading the EPA, he worked to implement higher standards for controlling ozone, diesel fuels, and other air pollutants; he also led out in developing a federal plan to clean up the Great Lakes.
In 2005, Michael O. Leavitt was appointed secretary of the US Department of Health and Human Services, where he served until 2009. He was known as an advocate for Medicare reform and took a proactive role in leading the mobilization of the nation's pandemic preparedness and reconfiguration of its medical emergency plans in response to the avian flu. During this he also served on the Homeland Security Advisory Council. In keeping with his desire to utilize the advantages of advancing technology, he became the first cabinet-level blogger in the United States.
Following his service in the White House, Michael O. Leavitt has been a co-leader of the Prevention Initiative at the Bipartisan Policy Center. He created Leavitt Partners, a consulting firm designed to advise clients on healthcare issues and other areas of Leavitt's expertise. Through his family's charitable foundation, he has donated generously to education, arts, humanitarian organizations, genealogical projects, and The Church of Jesus Christ of Latter-day Saints, of which he is an active member. He is married to Jacalyn Smith Leavitt, and they have five children.
---
---