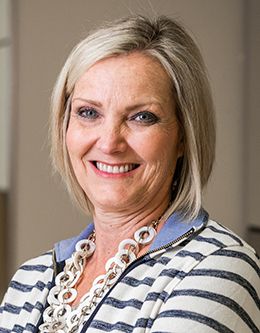 Pam Musil
Associate Chair for the Department of Dance
Pam Musil is the associate department chair of BYU's Department of Dance. She received both her bachelor's and master's degrees from BYU. Her passion for dance melds into every part of her life, including her research. She has published several papers regarding pedagogy and gender in the dance world.
Professor Musil currently teaches Kinesiology for Dancers at her alma mater university, where she has been a professor for 26 years. Before coming to BYU, she taught in public schools for eleven years. Her work was recognized by many, and she was titled State, Regional, and National Dance Educator of the Year by the National Dance Association. Professor Musil specializes in contemporary dance education at BYU and was formerly the director of the dancEnsemble performing group.
As a certified Franklin Method Educator, Professor Musil strives to help her students develop healthy dance habits and learn about the function of the body so they can continue dancing for years to come. She currently serves on the editorial board for the Journal of Dance Education and previously served on the board for the Arts Education Policy Review.
Recently, she was featured in a short documentary titled "And I Continue—A Conversation about Dancing and Aging." This short film premiered at the National Dance Education Organization Conference in 2018.
One of her most memorable works from her time at BYU was her choreography for a 2011 dancEnsemble show based on sculptures by the artist Heloise Crista. Professor Musil saw life in the honored artist's sculptures and wanted to express the emotion she felt through dance. The project was supported by BYU and its dance community, and Professor Musil was able to take her students down to Frank Lloyd Wright's Arizona retreat, Taliesin West, to work on the project.
Professor Musil is genuinely compassionate and concerned with the individual well-being of her students. In her 2019 devotional address, she told the stories of several students who have inspired her over the years. She also encouraged her audience that change is always possible and offered advice on how to transform your life for the better. Professor Musil's outlook on life is enthusiastic and sincere. Her remarks to BYU students, faculty, and staff incorporated her research in dance and her profession, showing that students do not have to abandon their passion for art and beauty in search of academia.
---
---