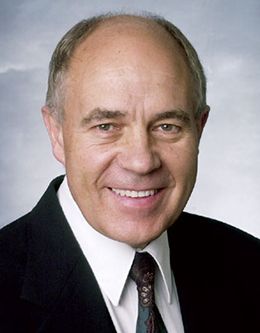 R. Kent Crookston
R. Kent Crookston was raised on a wheat and dairy farm in Magrath, Alberta, Canada. After serving a mission to New Zealand, he received his bachelor's degree in agronomy from Brigham Young University in 1968 and his PhD in plant physiology from the University of Minnesota in 1972. He next held post­doctoral positions with Agriculture Canada and Cornell University. From 1974 to 1998 he was a member of the agriculture faculty at the University of Minnesota, where he served as director of sustainable agriculture from 1988 to 1992 and as head of the Department of Agronomy and Plant Genetics from 1990 to 1998. In 1998 he returned to BYU to serve as dean of the College of Biology and Agriculture until 2005.
Dean Crookston has researched pho­tosynthetic physiology and the man­agement of corn, soybeans, barley, and wheat. He is author or coauthor of 81 journal articles, two books, and one pat­ent. From 1984 to 1986 he and his fam­ily lived in Morocco, where he helped establish an agricultural university. He has also worked or consulted in a number of European, African, Latin American, and Asian countries.
Brother Crookston met his wife, Gayle Jones, while attending BYU, and they have seven children.
---
---