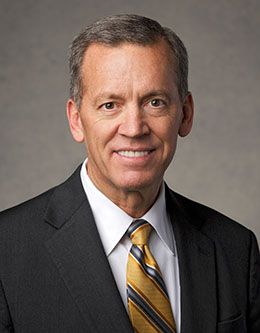 Randall K. Bennett
Born in Alberta, Canada, in 1955, Elder Randall K. Bennett felt the influence and guidance of prophetic counsel from a very early age. Counselled and encouraged to serve as a full-time missionary, he served in the France Paris and France Toulouse Missions before returning home to receive an education.
Elder Bennett and his wife Shelley Watchman met soon after he came home. In his BYU devotional "Prophetic Invitations and Promised Blessings," Elder Bennett shares not only how prophetic counsel has changed his life, but Sister Bennett's as well. At age 15 during a Youth Conference, Sister Bennett was invited by an apostle to kiss her father on the cheek and tell him she loved him every night for a year. Although her father didn't know what to do with the affection at first, it brought the two of them closer before her father passed away just one year later.
Elder and Sister Bennett were married in April 1977 in the Cardston Alberta temple. They had four children together while Elder Bennett earned his doctorate in dental surgery from the University of Alberta and then his Master of Science specialty degree in orthodontics from Loma Linda University. During his education, Elder Bennett found that by taking the time to read from the scriptures and pray daily, his other efforts were magnified.
Elder Bennett's professional career focused on orthodontic research, development, teaching, and training. At the height of his career, the Bennett's felt the need to serve a mission together. The two were called to serve at the Missionary Training Center in a branch of missionaries assigned to speak Russian and Ukrainian. Partway through that service, Elder Bennett was called to serve as president of the Russia Samara Mission from 2007 to 2010.
After returning home, the Bennett's continued desire to serve led them to serve another mission together. Instead of service as missionaries, however, Elder Bennett was called into the Second Quorum of the Seventy. In this capacity, the two returned to Russia to serve in the Europe East Area presidency from 2011 to 2015.
---
---