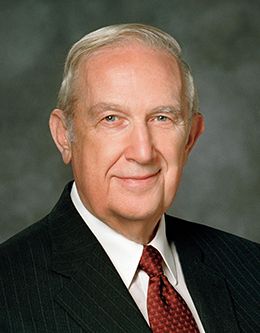 Richard G. Scott
Elder Richard Gordon Scott was sustained an Apostle in October 1988. He was called as a member of the First Quorum of the Seventy in 1977 and served in the presidency of that quorum from October 1983 until his calling as an Apostle.
The Pocatello, Idaho, native graduated in mechanical engineering from George Washington University. He served a mission to Uruguay and pursued postgraduate work in nuclear engineering at Oak Ridge, Tennessee.
From 1953 to 1965 Elder Scott served on the immediate staff of Admiral Hyman Rickover, directing the development of nuclear fuel for a wide variety of naval and land-based power plants. He has since worked as a consultant for private nuclear power companies.
He presided over the Argentina North Mission from 1965 to 1969 and served as a Regional Representative in Uruguay, Paraguay, North and South Carolina, Virginia, and the Washington, D.C., areas.
Elder Scott was married to Jeanene Watkins, who passed away in 1995. They are the parents of seven children.
---
---