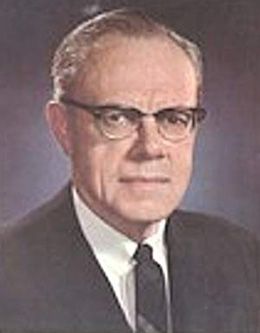 Richard L. Evans
Elder Richard L. Evans was born in 1906 in Salt Lake City, Utah. He possessed incredible gifts of communication that he was blessed to use throughout his entire life in his callings and his career. As a young man, he served a mission in England, where he was associate editor of the Millennial Star. This was a well-respected missionary publication. After returning from his mission, he became a radio announcer in his hometown. While working there, he graduated with a bachelor's degree in English and a master's degree in economics. He married his wife, Alice, and they raised four sons together.
At the age of thirty, Elder Evans was assigned to be the managing editor of the Improvement Era. He served in this position for more than thirty years. As managing editor, he helped with the creation of a Church magazine aimed towards the youth: the New Era. His incredible talents led him through a highly successful life. In 1953, the call was extended for him to be a member of the Council of the Twelve. He accepted and gave all of his effort in fulfilling his calling.
Elder Evans was well-known for his program "The Spoken Word." He led this program for forty-one years, and helped share the truth of the gospel with people from all over the world. His voice was known to many, and his faith, confidence, and earnestness touched lives around the globe. He passed away on November 1, 1971, at only sixty-five years old. His death was due to an infection in his central nervous system.
While his time on Earth came to an end sooner than many would have hoped, comfort can be found in studying the talks, books, and speeches he left behind. His legacy continues onward, and we are proud to have the collection of talks he gave at BYU available for all to access.
---
---