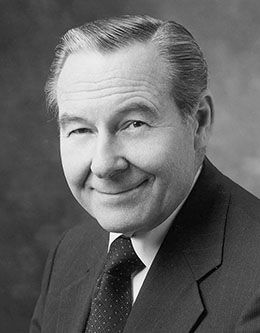 Robert L. Simpson
Elder Robert L. Simpson's life was one of extensive and intensive service; he worked in widely varying fields and callings, yet attended to each one with fervor and devotion.
Robert Leatham Simpson was born August 8, 1915, in Salt Lake City, Utah. As a child, he moved with his family to Southern California, where he grew up and attended Venice High School and Santa Monica College.
After graduating with an associate's degree in 1937, Robert L. Simpson served a mission to New Zealand. He returned in 1940, and in 1942 he married Jelaire Kathryn Chandler in the Arizona Temple. Together they had four children.
When World War II began, Robert L. Simpson was prepared to serve. As a member of the Air Force, he underwent technical training in communications at Yale University before serving as a captain in Egypt, Turkey, Iran, and Saudi Arabia. Because of his missionary experience in New Zealand, he was linguistically and culturally equipped to do special work with the Māori battalion in Cairo. He also served as the LDS Servicemen's coordinator in North Africa and the Middle East during his time in the military.
Upon his return from the war, Robert L. Simpson began a 20-year tenure at the Pacific Telephone Company. His adaptable skills and willingness to do whatever the company needed led him to diverse positions such as plant engineer, public relations supervisor, and head of accounting.
During this time he also served extensively in Church callings. He was part of a ward bishopric and a stake high council, and he served as a stake mission president, stake Young Men president, and seminary teacher before returning to New Zealand as a mission president.
Robert L. Simpson was called as a counselor in the Presiding Bishopric in 1961. During the decade of his service there, he focused intensely on the youth programs of the Church. His work in the Presiding Bishopric prepared him for his calling as Assistant to the Quorum of the Twelve, with the specific assignment as managing director of LDS Social (now Family) Services. He also presided over the London East Mission.
In 1976 Elder Simpson was called to the First Quorum of Seventy, where he would serve for 13 years before being granted emeritus status. His assignments as a general authority seventy had as much variety as his prior work and Church service experience: he was the managing director of the Temple Department, the managing director of the Missionary Department, general president of the Sunday School, president of the Pacific Area, member of the Young Men General Presidency, and president of the Los Angeles California Temple.
After being granted emeritus status, Elder Simpson continued to serve. He was the director of the Visitor's Center at the St. George Utah Temple when he passed away on April 15, 2003. Over his lifetime of service, he delivered 12 addresses at Brigham Young University that exemplify his missionary zeal and simple devotion to the gospel of Jesus Christ.
---
---