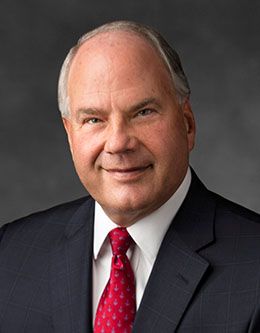 Ronald A. Rasband
of the Quorum of the Twelve Apostles
Through a highly successful business career, Ronald A. Rasband learned that "people are more important than anything else."1 He once found a way to consistently supply a specialized protein mixture to help a desperate young boy afflicted by PKU (phenylketonuria) half a world away. This principle not only contributed to his professional success, but also to his service in The Church of Jesus Christ of Latter-day Saints. As he and his wife travel for his callings as a general authority, she has been known to say, "We didn't get to do much sightseeing, but we did a lot of Saint seeing." Responding to the example of the Savior, Elder Rasband has spent his life ministering to "the one."
Born February 6, 1951 in Salt Lake City, Utah, as the only child of his parents' marriage (both had previously been divorced), Ronald Anderson Rasband was a living representation of his blended family. His older siblings remember him as a mischievous child, but he remembers that his parents and leaders never gave up on him. Elder Rasband's mother and father struggled financially but kept a happy family and taught Ronald the value of hard work, which he took to heart, especially as he worked to save for his mission and as he served in what he called the "rough and tough" land of the Eastern States. He was one of the select hard-working and obedient missionaries that his mission president could trust to serve in the Bermuda Islands, where there was little supervision.
When he returned home, he enrolled at the University of Utah. There, in a fraternity of returned missionaries, he became acquainted with Melanie Twitchell. The two became best friends and were married in the Salt Lake Temple in 1973. She calls it a "storybook, fairy-tale romance."2 Looking back on their marriage, Elder Rasband remarked, "My wife has taken me like potter's clay and molded me into something that really matters…she knows how to draw me back, slow me down, and get it right."3
The Rasbands made a good team. Elder Rasband served as the elder's quorum president of their married student ward, where he caught the attention of one of his high council members, Jon Huntsman. Hunstman was impressed by Rasband's effectiveness and leadership, and when a marketing position opened up at his company, he offered him the job. Elder Rasband was apprehensive about leaving his schooling and moving all the way to Ohio to take the job. Melanie, however, who had grown up in a military family, responded with, "What are you worried about? I know how to pack and move. I've been doing it my whole life. I'll let you call your mother every night. Let's go."4 And they did.
That was in 1976. By 1987 the Hunstman Container Company had become the Huntsman Chemical Corporation and Ronald A. Rasband was appointed the president and chief operating officer. By 1996, he was serving on the Board of Directors. Although he did not get to finish his schooling, he was awarded an honorary doctorate in Business and Commerce in 1995 by Utah Valley University. He also made a point to learn outside of the classroom, through his profession and his Church callings, including bishop, Temple Square missionary guide, and member of the Church Sesquicentennial Committee.
Always remembering that people were most important, Elder Rasband made time for meaningful memories with his family. His five children say he is extremely competitive in basketball, board games, and fishing, and having to earn their victories was not only fun, but made them stronger. One of his daughters said, "He was always my hero."5
In 1996 Elder Rasband received the call to serve as a mission president in New York. After that soul-stretching experience, he was called in 2000 as a general authority. As a counselor in the Europe Central Area Presidency, he helped supervise the work of the Church in 39 nations. He also served as the president of the Utah Salt Lake City Area, the Executive Director of the Temple Department, and helped supervise the North America West, Northwest, and three Utah areas. He had been serving as the most senior president in the Presidency of the Seventy for ten years when in 2015 he received the call to join the Quorum of the Twelve Apostles. Elder Rasband keeps in his office two paintings of pioneer missionaries, to remind him of his faithful heritage. He wants it to be known that he knows what they knew. His testimony of the gospel enriches the world in this calling as it has throughout his life.
1Elder M. Russell Ballard, "Elder Ronald A. Rasband: Gifted Leader, Devoted Father," Ensign, April 2016.
2Ballard 2016.
3Ballard 2016.
4Ballard 2016.
5Ballard 2016.
---
---