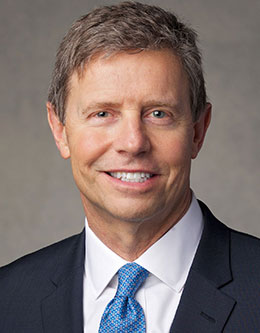 S. Mark Palmer
General Authority Seventy
Stanley Mark Palmer was born on February 11, 1956 in Te Puke, New Zealand. His parents, Kenneth and Jill Palmer, were not members of The Church of Jesus Christ of Latter-day Saints when he was born. It wasn't until a few years later that missionaries knocked on their door thanks to a referral from a Latter-day Saint relative. Still pained by the loss of a daughter, the family accepted the gospel thanks to the promises of the Plan of Salvation.  
Elder Palmer served a mission in his native country of New Zealand and gained confidence, faith, and leadership skills.  After being released, he studied at the University of Auckland and received a bachelor of commerce degree in 1979. He then traveled to the United States where he continued his studies at Brigham Young University. Thanks to a blind date, Elder Palmer met Jacqueline Anne Wood, a student from the University of Utah. The two were sealed in the Salt Lake Temple on December 18, 1981. They are currently the parents of six children and have nine grandchildren.  
After earning his MBA in 1982, Elder Palmer moved his family to Texas where he worked for Trammell Crow Company. In 1993, he founded SMP Ventures, a real estate development company, and he has served as the president since. In 2009-2011, Elder and Sister Palmer presided over the Washington Spokane Mission. Later, Elder Palmer served as the interim mission president of the Australia Sydney South Mission.  
Elder Palmer was later called to serve in the Sixth Quorum of the Seventy in the North America Southwest Area. After being called as a General Authority, he served for two years in the Africa Southeast/Africa South Area Presidency and then another three years as the Area President. On August 1, 2021, Elder Palmer was called to serve as a member of the Presidency of the Seventy. 
---
---