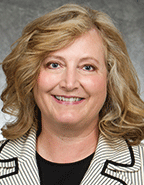 Sherri Patten Palmer
Associate professor Sheri Patten Palmer is a registered nurse who has worked at many hospitals along the Wasatch Front over the last 25 years. She joined the BYU faculty in 1995 as an adjunct professor in the College of Nursing. She started as full-time faculty in 2001, teaching medical-surgical nursing as well as capstone courses, and she is currently the coordinator for international nursing for the college.
Dr. Palmer received her baccalaureate degree from BYU, her master's degree from Idaho State University, and her doctorate of nursing practice at the University of Utah. She is the recipient of the 2013 Muriel Thole Teaching and Learning Fellowship and serves on national task forces for international nursing. Her research interests are international nursing, cultural competency, and global health.
Professor Palmer currently serves as Relief Society first counselor. She has a devoted husband, five children, and six grandchildren.
---
---